Syria conflict: UN peacekeeper abductors 'issue demands'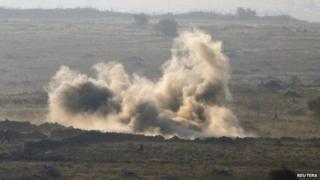 The kidnappers of 44 Fijian UN peacekeepers have given a list of demands for their release, the head of Fiji's military says.
Brig Gen Mosese Tikoitoga said the al-Qaeda-affiliated al-Nusra Front wanted to be taken off the UN's list of terrorist organisations.
They also want compensation for fighters killed in clashes with the UN, and aid for parts of Damascus.
Rebels seized the Quneitra crossing in the Golan Heights on Wednesday.
Seventy-two Filipino peacekeepers were also surrounded in two different areas, but they managed to escape over the weekend.
"Negotiations have moved up to another level with the professional negotiators now in place," Brig Gen Tikoitoga said, according to AP news agency.
"The UN has assured us they will use all of their available resources for the safe return of our soldiers," he added.
'Expel observers'
On Monday, UN Secretary General Ban Ki-moon demanded the immediate and unconditional release of the Fijian peacekeepers serving with the UN Disengagement Observer Force (Undof).
Al-Nusra published on Sunday photographs of what it said were the seized peacekeepers, along with their identification cards. It said they were "in a safe place and in good health".
The jihadist group has previously said they were seized because the UN was "ignoring the daily shedding of Muslims' blood in Syria" and co-operating with government forces to "facilitate its movement to strike the vulnerable Muslims" in the demilitarised zone.
The targeting of Undof has led to criticism from contributing nations.
The Republic of Ireland warned it would not send replacements for its 130-member armoured rapid response unit next month if Undof's firepower, command and control, and rules of engagement were not strengthened.
"I've made it very clear that I'm not going to continue to commit Irish troops to this mission unless there's a very fundamental review of how it's going to operate. Clearly this is no longer a demilitarised zone," Irish Defence Minister Simon Coveney told RTE radio on Monday.
This is not the first time Undof personnel have been detained by rebel fighters in recent years. Peacekeepers were detained in March and May 2013, and were subsequently released unharmed.
Israel seized most of the Golan Heights in the closing stages of the 1967 Six-Day War, and thwarted a Syrian attempt to retake it in 1973. Both countries signed an armistice in 1974, after which Undof was put in place to monitor the demilitarised zone.