Egypt Brotherhood chief Badie sees death sentence cut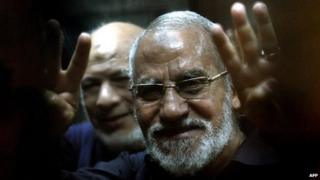 A death sentence against the head of Egypt's Muslim Brotherhood has been commuted to life in prison.
However, Mohamed Badie, the Brotherhood's Supreme Guide, still faces the death penalty for an earlier case relating to rioting in 2013.
Egyptian authorities have cracked down harshly on Islamists since the ousting of President Mohammed Morsi last year.
Human rights groups have criticised the harsh sentences given to Brotherhood supporters, often in mass trials.
In the latest ruling, the Giza Criminal Court said it decided to downgrade the penalty for Mr Badie and seven others after consulting with Egypt's Grand Mufti.
He was charged with killing at least nine people and inciting violence that injured 21 others in Giza in 2013.
In the same ruling, the judge also sentenced six others to death in absentia.
Several other Brotherhood leaders, as well as hundreds of ordinary members, have already been sentenced to death.
A crackdown by Egyptian authorities over the past year has seen more than 1,400 people killed and 16,000 others detained, rights activists say.