Playfulness masks pain and trauma of Iraq's children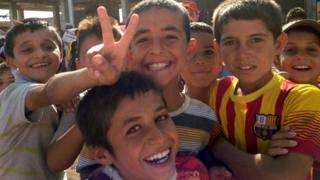 "Welcome, welcome, welcome!" a crowd of pint-sized children sing as they gather around a schoolyard in the town of Zakho.
They jump up and down and fall over each other to get some time with the BBC camera that has just arrived.
One boy - a toddler - has a large bandage wrapped around his head covering a wound from which fluid seeps as he stares wide-eyed into the lens.
Wherever the camera goes, the children follow.
These are some of the Yazidis who escaped Sinjar after the town taken over by Islamic State (IS) militants two weeks ago, forcing thousands of members of the religious minority to flee to a nearby mountain and triggering an international aid operation.
'Horrible things'
The United Nations Children's Fund (Unicef) says half of the 400,000 people who have been displaced by the violence in Iraq this year are children.
Under the blazing sun, a humanitarian representative passes out water.
Dehydration in children is one of the biggest concerns here, especially in infants as they are the most vulnerable.
Marzio Babille, Unicef's representative to Iraq, keeps the children occupied in a tent where they can escape the excruciating heat.
"The question is: do you want more of this?" he asks while holding up building bricks.
"No, no, no!" they shout.
"What do you want?"
"Xbox, PlayStation!"
But behind this temporary bout of youthful exuberance is pain and trauma.
Seventeen-year-old Rozheen tells us in Kurdish: "I am here because of IS. They have killed our children and women."
"We left all we have in Talkif. Our home, our clothes, everything."
Rozheen is remarkably calm as she recounts her story, leaning against a railing wearing a red headscarf and long, tan skirt.
"We've seen a lot of horrible things. We fled to the mountain and stayed there for three days without food, water, or anything."
"Some children have seen family members abandoned, having to leave grandma and grandpa behind because they could not walk anymore," says Unicef emergency worker Bastien Vigneau.
"In my 20 years of experience, I have never seen this depth of suffering."
Mr Vigneau says the children looked "almost like they had been switched off" after their trek from Sinjar.
Schools swamped
Unicef has set up centres for displaced people at schools like the one we went to across Dohuk province.
Activities are run to keep the children occupied, including drawing exercises from which samples are taken and sent to experts to assess levels of trauma.
Mr Vigneau says children have to be approached differently to adult refugees.
"I saw two cases where children reacted very violently," he explains.
"In one, a worker was talking to a mother and trying to approach the child in a very friendly way. The child, who was maybe five or six years old, was terrified and starting screaming, probably thinking that my poor colleague was trying to attack."
There are 1,500 schools in Dohuk province. Half of them are full, housing about 140,000 displaced people.
The mayor of Zakho tells the BBC he is concerned that children will not be able to start their school term as planned on 10 September - citing the urgent need to set up proper camps with sanitation facilities.
Defiance against 'Da'esh'
But schools are not the only places where the Yezidis are currently staying.
Derelict buildings pepper the side of a main road in Zakho. On each floor, hundreds of people are seeking refuge, many of them children.
When a lorry pulls up to distribute water, the children flock to it.
One barefoot young boy wearing a football jersey grabs a pack of water bottles almost as big as he is and carries it back to his family, who are sitting in the shade.
Seven-year-old Samer is a shy Yazidi girl, but like many of the displaced children she has a flair for the camera.
After having her picture taken, she does not like it and wants another, striking a pose, staring into the camera with no smile.
When asked why she is here, she says "Da'esh" (the pejorative term for Islamic State in Arabic) and when asked if she is afraid of it, she defiantly says "no".
Most of the people here - including the children - are under the impression that the United States and Europe will take them in.
As we drive off, the group of children that has been following the camera around, crowds round the car. A young boy makes the sign for peace.