Syria crisis: Assad forces retake key Damascus district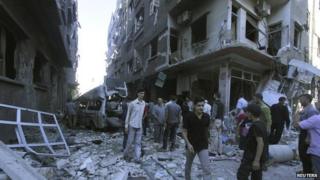 Syrian forces have retaken a key district of Damascus from opposition forces, activists and state media say.
Security forces loyal to President Bashar al-Assad moved in on Mleiha, which is 10km (6 miles) from the centre of the capital, on Thursday morning.
The operation followed a campaign of air strikes on the town, which sits on the main road to Damascus airport.
On Wednesday, Islamist militants were said to have seized several towns from rebels in the northern Aleppo province.
Opposition groups in Syria have been fighting President Assad for over three years, but have lost ground in recent months.
Correspondents say they are facing attacks from the brutal Islamic State group in the north and an offensive by government troops on the outskirts of Damascus and south of Aleppo.
The UK-based Syrian Observatory for Human Rights (SOHR) - an activist group that monitors the conflict - said the government forces retook Mleiha with help from fighters from Hezbollah, the Lebanese Shia militant group.
Clashes were still going on in the town's surrounding areas on Thursday afternoon, the SOHR said.
State media said President Assad's troops had killed a "large number of terrorists" and were in pursuit of other gunmen in farms on the outskirts of the town.
While the government remains in control of Damascus, rebels have several bases around the city, including one in the suburb of Ghouta, near Mleiha.
SOHR director Rami Abdel Rahman said retaking Mleiha will allow President Assad's troops to protect parts of the capital from rocket fire and allow them to move towards Ghouta.