After the Gaza ceasefire: Hyper-tense and under fire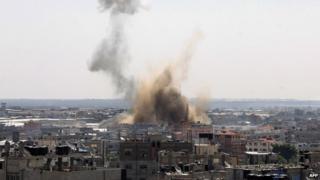 Why Hamas, and possibly other militant groups in Gaza, decided to resume firing rockets on Israel on Friday morning is perplexing.
They cite their long-standing demands that Israel should ease its economic and physical blockade on Gaza, but the one thing the war-weary and battered residents of Gaza and southern Israel need right now is calm and time to repair the damage.
It's difficult to see what either side can gain from a resumption of fighting, which was why there had been initial hopes the 72-hour ceasefire might have been extended.
Israel was facing a growing chorus of international criticism for its alleged disproportionate use of force in Gaza. The militants had already lost far too many of their own - fighters and civilians.
Indeed, so confident had some senior Israeli officials been that the Egyptian-brokered truce would be extended, that they earlier told the thousands of Israelis who live in farms and communities along the Gaza border that it was safe to return home.
The border area didn't feel particularly safe this morning, and several kibuttzim were still virtual ghost towns as more than 36 rockets and mortars were fired from Gaza.
But, that perhaps, is part of the Hamas strategy.
They don't want Israelis to feel safe or comfortable as long as the blockade of Gaza continues (and the Israeli occupation of the West Bank and East Jerusalem).
While Gaza's 1.8 million inhabitants live, penned in, barely able to make a living - so the argument goes - why should Israelis just across the fence feel any more secure?
Another two Israelis were injured as the rocket attacks resumed.
And while the overwhelming majority of people in Israel support their government's recent offensive in Gaza, there's also a realisation there will be another conflict in two or three years if the fundamental issues behind this crisis aren't addressed.
For Hamas and its supporters in Gaza, that means lifting the blockade.
At the Kerem Shalom crossing I saw several truckloads of food, blankets and aid being transferred onto trucks on the Gazan side.
That trade (and aid) continued throughout the month-long conflict, but Gazans say it is nowhere near enough. They say they are completely dependent on what Israel decides to allow in and, for now, there are severe restrictions on building materials, concrete and other basics.
The reason for that, argues Israel, is obvious - while those materials are potentially used to build tunnels and other militant infrastructure, they'll not be allowed in.
For Israel, the goal is peace and quiet and that means a demilitarised Gaza - something that Hamas won't countenance in the present climate.
So, with talks in Cairo suspended for now, other bodies, like the European Union, are frantically trying to come up with proposals to find some common ground between the two belligerent parties - and avoid the inevitability of another war.
It's a desperate situation, both here, in the partially deserted and hyper-tense communities of southern Israel, and, just across the dusty brown fields, amid the destruction and death in Gaza.
Human cost of the conflict
Palestinian deaths
1,030 men, including 671 civilians and 166 militants
219 women
414 children, including 246 boys and 161 girls
Israeli deaths
64 soldiers
2 civilians
1 Thai national in Israel
(Source: OCHA)