Iraq crisis: Yazidi refugees need urgent help, UN warns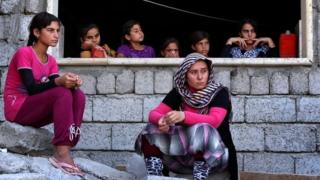 Emergency aid drops by the US are helping refugees trapped by Islamist militants in northern Iraq, but more must be done, a UN official has warned.
About 50,000 members of the Yazidi religious sect are surrounded by the Islamic State (IS) group in Iraq.
President Obama has authorised air strikes on the militants but says he will not send US troops back to Iraq.
The Sunni Muslim group, formerly known as Isis, now has control of large swathes of Iraq and Syria.
In June, IS took control of the northern Iraqi city of Mosul and advanced south towards Baghdad.
Its fighters seized Qaraqosh, Iraq's biggest Christian town, earlier this week.
Mr Obama said the Iraqi government had requested assistance and the US would act "carefully and responsibly, to prevent a potential act of genocide" against the Yazidi and Christian communities.
He said air strikes would be launched if IS fighters threatened Baghdad or the Kurdish capital Irbil, where many US diplomats and military advisers are based.
No air strikes have been launched yet but the US has dropped food and water to the Yazidis trapped on Mount Sinjar.
Dr Marzio Babille, Unicef's representative in Iraq, said the Yazidis were in an extremely precarious situation because of the "very aggressive and brutal" IS militants.
He said there were many "logistical and strategic difficulties", but added that a humanitarian corridor needed to be established.
The BBC's Jiyar Gol in Irbil says the Kurdish authorities are angry with Iraqi Prime Minister Nouri Maliki because they do not have good enough weapons to take on the militants.
IS fighters acquired large quantities of US arms and equipment when they took over Mosul and this has helped their advance, our correspondent adds.
Mr Maliki has faced calls from Sunni Arab, Kurdish and some Shia Arab leaders to step down because of his handling of the crisis.
They have also accused him of worsening the situation in Iraq by pursuing what they say are sectarian and authoritarian policies.
Humanitarian daily rations
2,200 Calories in each daily pack for one person

2 main courses such as lentil stew or beans with rice

2 or more carbohydrate snacks such as crackers or flat bread

2 sachets of high calorie spreads: usually peanut butter and jam

Also raisins and/or fruit bar/pastry, condiments, alcohol-free wipe, spoon
Ameriqual
As leader of the bloc that won the most seats in April's parliamentary elections, Mr Maliki has demanded the right to attempt to form a governing coalition.
But reports suggest Mr Maliki may have been forced to offer assurances that he would step down in return for military assistance from the US.
US Defence Secretary Chuck Hagel said in a statement Thursday night that dealing with IS would require greater political reconciliation and a stronger Iraqi military.
US personnel would provide increased support, he said, once Iraq has formed a new government.
Iraq's most senior Shia cleric - Grand Ayatollah Ali al-Sistani - put further pressure on Mr Maliki after saying that politicians who cling to their posts put the country in "grave danger".
He said "conflicts and differences" between political parties had "opened the door for the terrorists" and called on Iraq to unite.
"All Iraqis should unify ranks and intensify efforts in the face of this big danger that threatens their present and future," he said during his weekly Friday sermon.
---
Iraq's minorities
Christians
The majority are Chaldeans, part of the Catholic Church
Numbers have fallen from around 1.5 million since the US-led invasion in 2003 to 350,000-450,000
In Nineveh, they live mainly in towns such as Qaraqosh (also known as Baghdida), Bartella, Al-Hamdaniya and Tel Kef
Yazidis
Secretive group whose origins and ethnicity are subject to continuing debate
Religion incorporates elements of many faiths, including Zoroastrianism
Many Muslims and other groups view Yazidis as devil worshippers
There are estimated to be around 500,000 Yazidis worldwide, most living in Iraq's Nineveh plains
Iraq: The minorities of Nineveh
---
Are you in Iraq? You can email us at haveyoursay@bbc.co.uk using 'Iraq' in the subject.