Graphic content: How media differ on use of Gaza images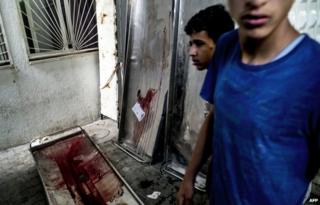 Since Israel launched Operation Protective Edge on 8 July with the stated aim of stopping rocket fire from Palestinian militants in the Gaza Strip, more than 1,900 people have been killed.
Although the fighting has invariably appeared at the top of the news bulletins of international broadcasters for four weeks, their coverage has varied considerably, particularly on the use of graphic images.
English-language broadcasters, including the BBC, CNN and al-Jazeera English, as well as television channels based in China and Russia have chosen not to broadcast many of the most shocking images that are shown regularly by channels in the Middle East and Islamic world.
---
Israel
Mainstream Israeli TV channels have been largely supportive of the military operation in Gaza, with many pressing the government to intensify attacks on the militants.
TV reports have focused on the details of military operations, with soldiers described as "heroic", and on the plight of Israeli civilians living within range of rockets.
Israeli channels have broadcast reports about the humanitarian situation in Gaza, but this has not been the focus of their news bulletins.
---
Palestinian territories
Al-Aqsa TV, the Gaza-based satellite channel run by the militant Islamist Hamas movement, has shown very graphic pictures of casualties resulting from the conflict, including dead children.
It has sent reporters and cameras to hospitals, from where they have broadcast live pictures of wounded people being brought in.
The channel has also broadcast lengthy films that glorify Palestinian militants, showing them firing rockets and in one case emerging from a tunnel near an Israeli installation and killing a guard.
Its coverage of Israel has focused on the panic caused by the rockets and soldiers' coffins.
---
Pan-Arab TV channels
Al-Jazeera's Arabic channel, which is generally supportive of the Palestinian cause and Hamas, has stood out among its regional competitors with a no-holds-barred approach to pictures of the casualties, including large numbers of graphic images of mutilated bodies.
However, the Qatar-based network's English channel has opted to show less graphic pictures, though it has still gone further than the BBC and other Western broadcasters.
Abu Dhabi-based Sky News Arabia has tended to show footage of violent scenes, but the content cannot be described as strikingly graphic.
Saudi-owned al-Arabiya, which is generally critical of Hamas, has aired footage showing the aftermath of Israeli air strikes, as well as of crowded hospitals and UN schools being used as shelters by civilians. At times, it has shown very graphic pictures of casualties, including dead children.
Iran's state-run Arabic-language channel, al-Alam, has broadcast graphic pictures throughout the conflict and has also aired video produced by Palestinian armed factions showing the launching of rockets that were supplied by Tehran or produced with its help.
---
Egypt
In Egypt, state-run and private TV channels have denounced what they have described as the Israeli "aggression", but also criticised the actions of Hamas, an offshoot of ousted President Mohammed Morsi's Muslim Brotherhood that the authorities in Cairo consider a threat.
Some outlets have been significantly more hostile to Hamas than during previous Israeli offensives.
Egyptian media have been more restrained in their use of graphic pictures when compared with the pan-Arab channels, but have still frequently shown videos and photos of dead bodies, especially children.
---
Iran
Iranian television has been strongly pro-Palestinian and has seen the fighting as another opportunity to denounce Israel and the West.
Main news bulletins have included graphic images of civilian casualties, particularly children. Hamas rocket attacks have also been celebrated as an effective means of spreading fear among "Zionists".
Coverage on Iran's state-run English-language channel, Press TV, is more balanced. It has often presented both sides of the argument while maintaining its pro-Palestinian rhetoric.
---
Russia
Russian domestic TV channels have displayed little interest in the Gaza crisis, but state-run English-language RT has often placed it in the top headlines of its news bulletins. RT usually focuses on the death toll and is mildly critical of Israel, with prominence given to "anti-war" groups in Israel and abroad.
Its reports regularly include amateur footage showing houses being destroyed and wounded people lying in the streets, but the images do not tend to be very graphic.
On state-run domestic TV channel Rossiya 1, reports on Gaza are often brief, contain no footage and are placed at the end of news bulletins. The channel does not appear to favour either side in the conflict.
---
China
Gaza coverage in China is similar to other international broadcasters: sympathetic to the civilians in Gaza, but economical with graphic images.
Reports have covered the major incidents, including deadly air strikes, the humanitarian ceasefires and relief efforts. But widespread claims that rockets were found at some UN schools in Gaza did not appear on the websites of state-run channel CCTV and Hong Kong-based Phoenix TV.
---
India
Among India's leading TV channels, private English-language NDTV has given the most prominent coverage to the conflict in Gaza. On others, it has been negligible.
NDTV sent one of its leading correspondents, Srinivasan Jain, to Gaza, and the resulting daily coverage was strongly pro-Palestinian. The channel's choice of images is generally similar to that of other international broadcasters.
NDTV's coverage was less pro-Palestinian at the start of the fighting, when it also represented pro-Israeli views while being sympathetic to the plight of affected residents of Gaza. However, shortly before the three-day ceasefire began on 5 August, Jain and his team captured rare footage of militants quietly preparing to fire a rocket from a densely populated area of Gaza. The pictures were subsequently used by Israeli Prime Minister Benjamin Netanyahu at a news conference.
Aside from NDTV, reporting on Gaza has been limited on other TV channels such as CNN-IBN and Times Now. CNN-IBN has relied on CNN for its reportage, while Times Now has focused on domestic politics.
---
Pakistan
In Pakistan, most of the coverage of the fighting has been strongly pro-Palestinian.
The most widely-watched channel, Geo News, has denounced what it calls a "one-sided war" and the "barbarity" in Gaza. Its broadcasts have often shown bloodied infants and destroyed buildings. Hamas or militant groups operating in the territory have been scarcely mentioned.
Dunya News, another private channel, put out an emotionally-worded report during the Israeli ground operation saying hundreds of Palestinians had "drunk from the chalice of martyrdom".
---
US
CNN dedicated large parts of its on-air time both on its domestic and international channels to the situation in Gaza. In the first weeks, top presenter Wolf Blitzer anchored coverage from the Israeli side of the frontier with the coastal territory.
CNN broadcasts have featured many examples of the difficulties faced by Israelis as a result of the rockets being fired by Palestinian militants.
There has also been a strong emphasis in the Gaza side of the coverage on the damage caused by air strikes and shelling, and the casualties suffered by civilians. Graphic images of children and other civilians caught up in the fighting and in varying degrees of distress have featured regularly.
BBC Monitoring reports and analyses news from TV, radio, web and print media around the world. For more reports from BBC Monitoring, click here. You can follow BBC Monitoring on Twitter and Facebook.