Gaza conflict: Israel rejects truce 'as it stands'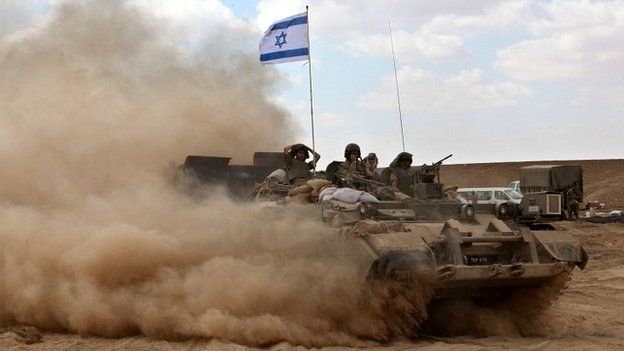 Israel's security cabinet has rejected a week-long Gaza ceasefire proposal put forward by US Secretary of State John Kerry "as it stands".
Israeli Defence Minister Moshe Yaalon said ground operations in Gaza could soon be broadened "significantly".
However, reports suggest Israel may observe a 12-hour truce on Saturday.
The Islamist group Hamas which controls Gaza has said on previous occasions it will not accept a deal without an end to Israel's blockade of the Gaza Strip.
More than 800 Palestinians, mostly civilians, and 36 Israelis, including three civilians, have died since the start of the conflict Israel rejects truce 'as it stands' between Israel and Hamas which entered its 18th day on Friday.
According to Reuters news agency, Israeli air strikes killed a further 55 people in Gaza during the day.
Israel's military also said its Iron Dome defence system had intercepted several rockets fired across the border by Hamas.
Israel launched its military offensive on 8 July with the declared objective of stopping Hamas firing rockets into Israel.
It has since extended its operation to destroy tunnels dug by militants to infiltrate Israel.
Rioting has erupted for the second night running at the Qalandia checkpoint in the West Bank, where 10,000 protesters massed on Thursday, clashing with Israeli border police.
Stones have been thrown and there has been some fire from the Israeli side, the BBC's Jon Donnison reports.
Clashes between Palestinian protesters on the one hand, and Israeli security forces and Jewish settlers on the other, left five Palestinians dead in the West Bank
Israel was accused of war crimes in a complaint lodged on behalf of the Palestinians with the International Criminal Court in The Hague
Rallies in support of the Palestinians were held in European and Middle Eastern cities, as well as a pro-Israeli rally in Berlin
Israel's Channel 1 TV reported that the cabinet had unanimously rejected the truce proposal "as it stands".
The Israeli defence minister's office quoted Mr Yaalon as telling soldiers in the field: "You need to be ready for the possibility that very soon we will instruct the military to significantly broaden the ground operation in Gaza."
But a senior Israeli official told the BBC that Mr Yaalon and Israeli Prime Minister Benjamin Netanyahu were "considering a 12-hour humanitarian ceasefire" in Gaza.
An unnamed US official, quoted by reporters in Cairo, said Mr Netanyahu had told Mr Kerry that Israel would begin the 12-hour pause on Saturday.
Hamas official Mohamed Nazzal told al-Jazeera TV the ceasefire proposal was "not acceptable at all" in its current form.
Expressing hope for an initial seven-day truce next week, Mr Kerry said there was "still some terminology... to work through" but he was confident there was a "fundamental framework that can and will ultimately work".
"We believe that seven days will give all the parties the opportunity to step back from the violence and focus on the underlying causes," he said.
He was speaking after talks in the Egyptian capital, Cairo, with Egypt's Foreign Minister Sameh Shoukry and UN chief Ban Ki-moon, who likewise called for the seven-day "humanitarian" truce to coincide with the Muslim Eid holiday.
Mr Shoukry, quoted by Reuters, said neither Israel nor Hamas had shown "enough willingness to negotiate" to end the fighting.
Mr Kerry said he would be in Paris on Saturday to continue talks with other players on achieving a ceasefire.