Syria deaths mount as world looks on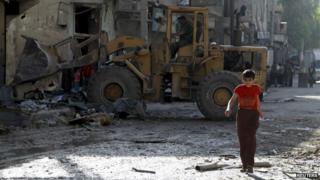 The people of Syria continue to die in greater numbers than anyone can accurately count.
Observers suggest that more than 700 people were killed in fighting between government forces and Isis rebels around Homs on Thursday and Friday last week - that's more than in any other two-day period in Syria's entire civil war.
In the capital Damascus, observers report the most intense fighting for many months. This week, the government has carried out airstrikes against rebels in the eastern Jobar neighbourhood. Forces loyal to Syrian President Bashar al-Assad have aimed to re-take a checkpoint seized by rebels a week ago.
Jobar is an important gateway both to the government held centre of the city and also to the rebel held Ghouta neighbourhood on the outskirts of the capital. It's not yet known how many civilians have been killed in this particular round of fighting.
Split opposition
President Assad's forces continue to take advantage of the divisions which have split the opposition. In several areas, rebel groups fight each other.
Western governments continue to try to punish Mr Assad's forces. A latest round of EU sanctions targets a further 12 members of his government and armed forces. But this may not cause Mr Assad undue alarm.
He will note some of the changing rhetoric against him. In August 2011, France, Germany and the UK called on President Assad "to step aside in the best interests of Syria".
That remains those governments' stated position. But as the war progresses - much of it in Mr Assad's favour - those clear calls have been replaced by language which appears to accept that Syria's president will not simply step aside.
International frustration
In the statement which accompanies the latest sanctions announcement, the UK government calls on Mr Assad to "negotiate in good faith" for a political settlement.
Diplomatic efforts, which might best be described as 'skeleton', continue. The UN has a new envoy - Staffan de Mistura. He comes with a lower profile than his two predecessors, Kofi Annan and Lakhdar Brahimi - who both resigned in frustration.
Mr de Mistura won't lack advice, particularly from the parties with whom he is supposed to broker peace. In its first reaction to his appointment, Syria's government has called on Mr de Mistura to be "objective and honest."