Gaza crisis: Has a turning point been reached?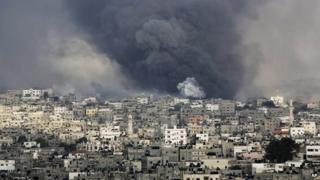 The bitter fighting in the Shejaiya neighbourhood in the eastern part of Gaza City, which has caused heavy civilian casualties and the deaths of some 13 Israeli soldiers, could mark a turning point in this crisis.
That, sadly, does not necessarily mean that the conflict has reached its peak.
The Israeli military still believes that it has more of its mission to complete.
Indeed, Hamas fighters may be emboldened by their ability to inflict pain on the Israel Defense Forces (IDF), and they too may not want an immediate halt.
But the fact that the battle has moved into a heavily-populated urban area with reports in some cases of house-to-house fighting means that the civilian death toll will rise markedly.
With it will come added pressure from outside to end the operation once and for all.
Writing only a few days ago at the start of this operation I noted that this was a classic asymmetric conflict of the weak against the strong.
Hamas and other Palestinian groups cannot in any sense match Israel's formidable modern military machine.
Indeed quite apart from Israel's offensive capability, its Iron Dome missile defence system has played a fundamental role in determining how this crisis unfolded.
The rocket fire from Gaza was not something that any government would tolerate.
But Iron Dome's apparent capacity to nullify the Palestinians' long-range rockets delayed any ground operation - indeed if things had turned out differently it might have avoided one altogether.
The rocket and mortar fire from the Gaza Strip continued nonetheless and in due course it has killed two Israeli civilians.
But it is Hamas's other "weapon" - infiltration tunnels - that prompted the Israeli movement on the ground. Teams of Hamas fighters were clearly well prepared to infiltrate into Israel, though these early missions were thwarted.
The IDF's initial operations were within the less-populated boundary of the Gaza Strip as they sought to identify and destroy tunnel openings.
Saturday's ambush of an Israeli military vehicle though left two of its soldiers dead and encouraged Israeli commanders to move their men deeper into the Gaza Strip into the densely populated Shejaiya district.
Many civilians may have fled but clearly others remained. Now the fighting is close-up and bitter and it's taking a toll on the Israelis as well.
This may well be exactly what Hamas military commanders wanted: to draw the Israeli forces into its prepared underground positions in a close urban environment, a difficult battleground for any modern army.
Strengthened credentials?
From the outset, there were two problems for Israel in launching a ground operation.
First there was the risk of a dramatic increase in civilian casualties together with a danger that the IDF too would begin to lose men. Both are now happening.
Hamas (we have no clear indication of its real losses) and especially Palestinian civilians may be bearing the brunt of the losses. But the pressures on the Israeli side are growing too.
The IDF's casualties may make Prime Minister Benjamin Netanyahu even more determined to see this mission through even as the rising Palestinian death toll brings ever greater diplomatic pressure upon Israel to halt.
Of course the fundamental question remains - what does Israel see as the endpoint to this operation?
Can the tunnel infrastructure for example really be destroyed in a lasting way? And what level of Israeli casualties can be sustained in doing what may only be a temporary job?
For now, in a curious way, it may be Hamas that feels the more confident.
According to its narrative it has withstood the "iron fist" albeit at a cost of hundreds of ''martyrs".
But its credentials as a resistance force have been strengthened and it has shown by its incursions that it can even take the battle to the enemy.
Israel's fundamental goal in whatever remains of this operation will be to significantly disrupt this narrative.