Gaza-Israel: 'We don't want civilians to die'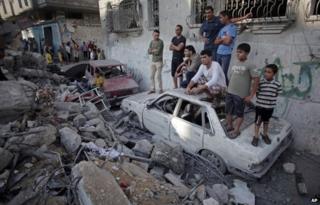 The Israeli military has begun a ground offensive against Palestinian militants in the Gaza Strip, stepping up its 11-day-old military operation.
People from Gaza and Israel share their views on Gaza ground offensive.
Najla, aid worker, Gaza
The situation has been calm over the last two to three hours. I live in the west of Gaza near the sea and we heard booming sounds coming from the distance and shooting from time to time. We expect that there will be more movement from the sea side but the Israeli operation is concentrated in the east on the border with Israel.
The night time was scary as the electricity was cut off in many areas and there was indiscriminate bombing, especially in the area near the borders.
We fear that a ground offensive on Gaza will bring more death and killing.
All the shops and business are closed and everyone is staying in their homes. Only some small grocery shops are open.
Gaza is highly populated and there is no place to evacuate for people on the border.
We received a recorded message on the phone from the Israeli army blaming Hamas which is ridiculous, I am quite secular and not a supporter of Hamas but the Palestinian living conditions are very bad and they are not prepared to live under siege for ever.
There is fear but morale among people in Gaza is high because we know the Palestinian resistance is ready for the ground offensive.
I know that there will be a temporary settlement at the end but we would like to have a settlement with fair terms for Palestinians, who need to live with dignity.
Elisheva Kroman, teacher, Beersheva, Israel
We had no choice other than entering Gaza. I can never feel completely safe and peaceful knowing that at any moment, day or night, Hamas of Gaza may target my city. I find myself running in the middle of the night to a shelter near my house. I have one minute to safeguard myself. Hamas always targets civilians. It is true that Israel has less casualties but that is because our government cares about its civilians and we have sirens to warn us.
Benjamin Netanyahu, the current prime minister of Israel, once said if they don't fire at us we won't fire at them. Peace with peace. If they decide to continue that is their decision.
I would like my government to stop Hamas' capability to fire rockets at us and to destroy all the tunnels near the borders. Then the operation should be finished and we should leave them alone.
Abdelraziq, business and management graduate, Gaza
The city is empty compared to yesterday. There are many planes flying over and I hear many explosions. The air strike is concentrated on the edges not in the centre.
The ground invasion is a bad move because it is going to kill more innocent civilians and would do no good for Israelis. We don't want any civilians to die from any side. I hope that there would be attempts at pacification from both sides and that Israelis would meet our conditions as the situation in Gaza is very bad. It is under siege and that creates many problems as there isn't much electricity and there are no job opportunities.
I just graduated from the University with no hope of finding any job. Here in Gaza there isn't even the minimum of life's necessities. I don't have the freedom to move without restriction as all of the crossings are closed.
Israel is to blame as they have closed everything in the face of Palestinians and this is driving people to resist.
I am not interested in politics but I need my basic rights as a human. I hope that I will be able to live decent life.
Doron Youngerwood, marketing manager, Modiin, Israel
The ground invasion is a necessary evil. The last thing that Israel would like to do is to risk the lives of its own soldiers and the lives of innocent people, but we have to stop the firing of the rockets and destroy the tunnels. We can't do this from the air or the sea.
We can't talk to Hamas as it is not listening. Israel left Gaza in 2005 and 10 days after the rockets continued to be fired on Israeli cities. We can't make peace with Hamas and they will continue shelling us with rockets.
I don't live within the Hamas rocket firing range hence I didn't experience what the families who live near Gaza have experienced, but I know how hard is it to live there.
It is very sad to see the pictures from Gaza but, since the ground invasion began, the Israel Defense Forces (IDF), have uncovered a large cache of explosives in a mosque. This seems to be consistent with the other stockpiles of weapons that have been found in hospitals, schools and residential homes. Hamas have stooped to a new low in using the people of Gaza as human shields and deliberately placing rockets in populated areas.
I pray for peace between the Palestinians and the Israelis but this isn't possible with Hamas