Egypt court jails seven for life over sexual assaults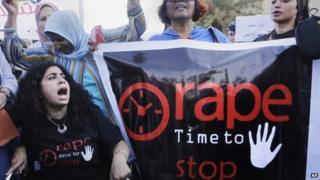 A court in Egypt has sentenced seven men to life in prison and two others to 20 years for sexual assaulting women last month.
The women were attacked in Cairo during celebrations following the election of President Abdul Fattah al-Sisi.
Afterwards, Mr Sisi ordered officials to enforce a new law making sexual assault a crime for the first time.
Women's rights groups have in the past accused the Egyptian authorities of failing to tackle the issue.
A 2013 UN study found nine out of 10 Egyptian women had experienced some form of sexual assault, ranging from minor harassment to rape.
'Strict measures'
At least nine incidents of mob sexual assaults and harassment in and around Cairo's Tahrir Square were documented between 3 and 8 June, when Mr Sisi's supporters celebrated his election and inauguration.
The nine men convicted on Wednesday faced charges stemming from four different cases.
It was not immediately clear if they included an assault on a 42-year-old woman, whom Mr Sisi visited in hospital amid an international outcry.
While attending the celebrations in Tahrir Square with her young daughter on 3 June, the woman was stripped naked by a mob. She then tripped over a large canister of hot water and suffered severe burns before falling to the ground and being sexually assaulted.
A graphic video later emerged showing the victim, naked and covered in blood, being helped towards an ambulance by a policeman.
The president apologised to her and promised that the state would "not accept that such incidents will take place in the future".
"We will take strict measures and we will stand strong in the face of any harasser," the former military chief added.
While Egyptian women's rights groups welcomed the new law criminalising sexual harassment, they called for a comprehensive law on violence against woman and a national strategy to implement it.
They reported that at least 500 women were raped or sexually assaulted by mobs between the overthrow of Hosni Mubarak in 2011 and the start of 2014. Thousands of others were subjected to sexual harassment.