Iraqi Shia support troops with 'meals-on-wheels'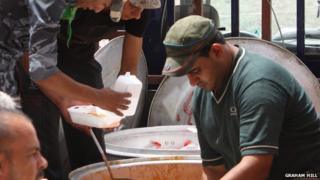 The huge pots of rice and vegetables bubbled while patriotic songs blared from giant loudspeakers.
"Look here!" shouted Jalal Majeed, counting the big cooking vats. "One, two…" up to six, big, boiling containers.
Jalal was relaxed in jeans and a T-shirt.
Other men in long white robes or bits of military uniform were also working hard, stirring the pots with the biggest spoons I have ever seen. More like shovels, really.
"And here," grinned Jalal, as he lifted a giant aluminium lid, "We have meat. To make Iraqi kebabs."
Feeding an army
Armies march on their stomachs. The Iraqis are no exception.
I was joining the food run organised by Balad's council for the fighters defending the town.
In the West we would call food runs like this "meals-on-wheels".
They are usually aimed at poor down-and-outs. But these were Iraqi-style meals-on-wheels.
The needy were fighters being served breakfast, lunch and dinner.
The woman in charge of all this was a confident local politician dressed in a black robe and veil, the chair of Balad town council, Manar al-Shadidi.
"This food has been donated by our people from the south of Iraq," she said, as it was loaded onto the small pick-up truck with the loudspeakers. "It comes from the people in Diwaniya, Basra and Amara."
It is no co-incidence that all of these towns in southern Iraq are predominantly Shia Muslim.
The food was destined for the Shia fighters who have recently retaken Balad from the Islamic State of Iraq and the Levant (Isis), whose supporters are Sunnis.
I accompanied the meals-on-wheels run to the Shia military checkpoints around Balad. The Isis positions were, according to Shia commanders, just 4km (2.5 miles) away.
Ms Shadidi led our little convoy in a saloon car, followed by the pick-up. Inside it was the food - piles of polystyrene containers and a few soldiers - with the BBC car coming up behind.
Isis is the violent jihadist movement which has for the past six months been building its influence across Iraq.
On 10 June, Isis dramatically took Iraq's second city, Mosul, in the north. It then barrelled southwards down the valley of the River Tigris towards Baghdad.
The Iraqi army at first retreated. The jihadists took a series of towns, including Balad, which is 70km (43 miles) north of Baghdad.
Here, the jihadists seems to have concentrated their firepower on the outskirts of the city. Again, no coincidence.
The outskirts of Balad are predominantly Sunni. It is the centre of town that is mainly Shia.
Although only a minority of Iraqi Sunnis ascribe to Isis' ideology, many have been tempted to join it in an alliance against the government.
This is because the current Shia-dominated government in Baghdad has been accused of being anti-Sunni for many years now.
So when the jihadists gathered strength late last year and sought allies from among Sunni tribesmen or former members of the American-dismantled army of the late Saddam Hussein, a Sunni, they were pushing at an open door.
After several days of fighting in Balad, the Iraqi army recaptured the town.
This is why I was able to witness Manar al-Shadidi's meals-on-wheels.
However, the Iraqi army appears to have re-taken control of Balad only thanks to help from a powerful Shia militia, the Kataib Hezbollah (Hezbollah Brigades).
We called on Kataib Hezbollah during our food run.
The militia is financed by the Shia "Big Brother" in the region, Iran. It has ideological ties to Lebanese Hezbollah and has been designated a terrorist organisation by the US.
I tried to talk to the Kataib Hezbollah men in Balad but they declined to say much, except to instruct us not to film their faces. We complied, of course.
Well-armed militiamen
Unlike everybody else on the meals-on-wheels run, the Kataib Hezbollah men did not take any of the food on offer.
They looked to me like they probably had quite enough of their own supplies. Perhaps they got them from Iran.
Anyway, they were well armed and wore crisp military uniforms.
From what I could see they were under an organised chain of command.
I have heard many people here describe them as a "militia". But they looked to my eyes like a well-drilled army.
I feel a bit sorry for the Hezbollah guys. They did not get to taste the fare on offer from the meals-on-wheels run.
It was white rice, with an okra and tomato sauce. There was just a hint of garlic in the seasoning. I had a plateful. It was delicious.