Gaza conflict: Israel restarts air strikes amid rocket fire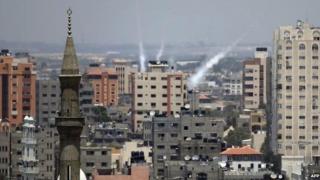 Israel has resumed its air strikes on Hamas-controlled Gaza, after Israel's brief truce was met with continuing rocket fire.
Israel had earlier accepted an Egyptian ceasefire proposal and halted operations on Tuesday morning.
But the armed wing of Hamas rejected the initiative as a "surrender".
Palestinian officials say 192 people have been killed in eight days of Israeli air strikes. Israel on Tuesday reported its first fatality.
Israel says it launched Operation Protective Edge to stop militants firing rockets into Israel.
Prime Minister Benjamin Netanyahu said on Tuesday evening that Israel had "no choice" but step up its operations.
He said: "Hamas chose to continue fighting and will pay the price for that decision. When there is no ceasefire, our answer is fire."
Kerry condemnation
The Israel Defense Forces said militants had fired 125 rockets into Israel on Tuesday.
---
Analysis
Kevin Connolly, BBC Middle East correspondent, Jerusalem
It took six hours for the first attempt to broker a deal between Israel and Hamas to founder.
Israeli PM Benjamin Netanyahu had warned that if the rocket fire continued, Israel would hit back hard - and now it has.
In the search for a ceasefire, this is clearly a setback although not necessarily a terminal blow.
Hamas wants some concessions - like the lifting of the tight restrictions Israel and Egypt impose on Gaza's border - in advance of any deal.
Egypt won't give up on its diplomatic efforts after a single setback but the resumption of hostilities means the question of whether Israel will eventually order ground operations is back on the agenda.
---
A 38-year-old Israeli man was killed by a mortar shell fired from Gaza near the northern border with Israel, reports said.
The IDF said that after resuming its air strikes, 30 targets had been attacked in Gaza, including 20 concealed rocket launchers, tunnels, a weapon storage facility and operational infrastructure used by a senior militant.
Under the terms of the Egyptian initiative, the ceasefire should have been followed by a series of meetings in Cairo with high-level delegations from the two sides.
There has been no definitive response to the initiative from Hamas.
Senior Hamas spokesman Osama Hamdan told the BBC it had only heard about the truce initiative through the media and that a ceasefire could not be put in place without the details of any agreement being known.
The armed wing of Hamas, the Izz al-Din Qassam Brigades, dismissed the initiative, saying its battle with Israel would "increase in ferocity and intensity".
US Secretary of State John Kerry said he could not "condemn strongly enough" Hamas' actions in continuing to fire rockets.
Israeli government spokesman Mark Regev told the BBC: "Hamas had seven hours to get their act together and they have rejected this ceasefire proposal... it's rejected it both in word and in deed."
Middle East Quartet envoy Tony Blair said it was inevitable Israel would retaliate to the continued rocket fire.
"There's no Israeli leader that would survive the day unless they were prepared to take action," he said.
What was needed, Mr Blair said, was talks on both a short-term ceasefire and a long-term plan for Gaza.
Israel's security cabinet, convened by Mr Netanyahu, had approved the truce on Tuesday morning, minutes before the proposed time for it to come into effect - at 09:00 (06:00 GMT).
But he warned that if Hamas did not accept the ceasefire, "Israel would have all international legitimacy to broaden the military operation".
The BBC's Kevin Connolly said that Israel's rapid acceptance of the Egyptian ceasefire proposal was a smart tactical move.
If the deal had held, Israel would have been happy with the outcome, he says, because it has damaged stockpiles of weapons that Hamas will find difficult to replenish.
The UN Relief and Works Agency for Palestine refugees (UNRWA) said on Tuesday that hundreds of thousands of Gazans were without water following the Israeli air strikes and that 560 homes had been destroyed.
Israel says more than 1,000 rockets have been fired from Gaza.