Israel accepts Egypt proposal to end Gaza conflict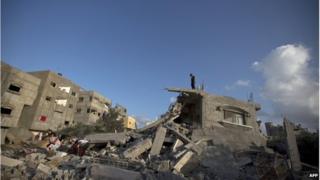 Israel has accepted an Egyptian truce proposal for the conflict with Gaza.
Hamas, which controls Gaza, is still discussing the plan, but its armed wing has rejected it as a "surrender".
Under the terms, the ceasefire should begin immediately, followed by a series of meetings in Cairo with high-level delegations from both sides.
Palestinian officials say at least 192 people have been killed by Israeli air strikes launched eight days ago to stop militants firing rockets into Israel.
There have been no Israeli air strikes into Gaza since the 09:00 ( 06:00 GMT) truce, but Israel says 39 rockets have been fired from Gaza into Israel after the deadline.
US Secretary of State John Kerry said he could not "condemn strongly enough" Hamas' actions in continuing to fire rockets despite the ceasefire call.
---
Analysis
Kevin Connolly, BBC Middle East correspondent, Jerusalem
If Hamas continues to reject the deal, then the Israelis will feel they emerge from the breakdown holding the diplomatic high ground.
No-one can be sure what's happening behind the scenes between Hamas and Egypt.
Hamas has both political and military wings - and some leaders who are not in Gaza. And communications are difficult with many senior officials in hiding during the Israeli air raids.
So establishing the group's definitive answer may take a little time, although we're clear on the views of military leaders inside the enclave that the Egyptian proposal is "a surrender".
The Palestinian militant group needs some sort of political win from this confrontation after all the suffering and destruction its people have gone through - the likeliest area of compromise would be some sort of easing of the tight economic restrictions on Gaza for which Israel and Egypt are jointly responsible.
But there's no guarantee of success for now.
---
'We remain alert'
Israel's security cabinet, convened by Prime Minister Benjamin Netanyahu, approved the truce on Tuesday morning, minutes before the proposed time for it to come into effect.
"We agreed to the Egyptian proposal in order to give an opportunity for the demilitarisation of the [Gaza] Strip - from missiles, from rockets and from tunnels - through diplomatic means," Mr Netanyahu told reporters.
But he added: "If Hamas does not accept the ceasefire proposal, as would now seem to be the case, Israel would have all international legitimacy to broaden the military operation to achieve the required quiet."
Peter Lerner, a spokesman for the IDF, Israel's military, said: "In accordance with the government directives, the IDF now holds fire. We remain alert and preserve high preparedness levels, both defensive and offensive."
The BBC's Kevin Connolly says that Israel's rapid acceptance of the Egyptian ceasefire proposal is striking, and represents a smart tactical move.
If the deal holds then Israel will be happy with the outcome, our correspondent says - because it has damaged stockpiles of weapons that Hamas will find difficult to replenish, and it will have quiet on its border with Gaza.
For now, Hamas sources are saying its attacks will "increase in ferocity and intensity" unless Israel releases prisoners and co-operates with Egypt to lift economic restrictions on Gaza.
That is not encouraging but does not mean that a deal will not ultimately be done - just that it will not be easy, our correspondent says.
Meanwhile the casualty figures continue to mount.
Three people were killed in Khan Younis, south of Gaza, on Tuesday morning, shortly before Israel accepted the proposed truce.
Of the 192 now reported dead by the Palestinian health authority, the UN estimates that over three-quarters were civilians.
An estimated 1,400 Palestinians have been injured.
Israel disputes the Palestinian casualty figures, saying they were based on Hamas sources and were not objective.
At least four Israelis have been seriously injured since the violence flared, but none have been killed.
Israeli sources said at least three rockets landed in and around the southern Israeli city of Eilat overnight.
Reports suggest they may have been fired from the Sinai peninsula in Egypt rather than from Gaza.
Are you in the area? Please get in touch by email talkingpoint@bbc.co.uk putting the word 'Gaza' in the subject heading.