Syria conflict: National Coalition elects new leader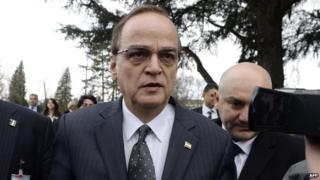 Syria's main opposition alliance, the National Coalition, has elected a new president.
Hadi al-Bahra, the coalition's chief negotiator at the failed Geneva II peace talks with the Syrian government, was chosen at a meeting in Turkey.
Like Ahmed al-Jarba, whom he replaces, he has close ties to Saudi Arabia.
Though the coalition is backed by the US and Gulf Arab states, it has little influence over the rebels trying to topple President Bashar al-Assad.
The hardline Islamist and jihadist fighters that dominate the rebel movement reject the alliance's exiled leadership.
One group, the Islamic State in Iraq and the Levant (Isis), has announced the creation of a "caliphate" in the territory under its control in northern and eastern Syria, as well as in the large swathes of neighbouring Iraq.
Meanwhile, at least 14 people, including several women, were killed overnight by rebels in the village of Khatab in Syria's Hama province, state media and activists said.
The Syrian Observatory for Human Rights said the rebels had accused residents of the Sunni village of collaborating with the government.
The Syrian Minister of Justice, Najm al-Ahmed, ordered a judicial inquiry into the attack, describing it as "a terrorist crime", the AP news agency reports.
'Not seeking power'
The National Coalition has repeatedly warned of the threat of Isis and called on its foreign allies to arm rebel forces to counter the gains made by the al-Qaeda breakaway.
"While Assad's allies have been supplying him with unlimited support, the aid provided by the Friends of the Syria [an alliance of Western and Gulf states] to mainstream rebels has decreased to the minimum level. The flow of arms to the Syrian rebels has almost stopped lately," spokesman Louay Safi told Wednesday's meeting in the Black Sea resort of Sile.
Mr Bahra was born in Damascus in 1959 and spent most of his adult life in Saudi Arabia, where he managed several hospitals and businesses.
In an interview with AFP news agency, he reaffirmed that he was determined to reach a political solution to the conflict in Syria, which has left more than 160,000 people dead and driven millions from their homes.
The opposition was "not looking to seek power or impose an opinion", Mr Bahra stressed.
Meanwhile, a new survey suggests only one in three Syrians believe President Assad best represents their interests and aspirations.
However, the overwhelming majority feel he will remain in power for three years or more, and 60% want international military intervention, it says.
UK-based ORB International interviewed 1,014 adults in opposition- and government-controlled areas in 12 of Syria's 14 provinces, shortly before Mr Assad was re-elected for a third seven-year term in April.