Iraq crisis: Parliament moves session after criticism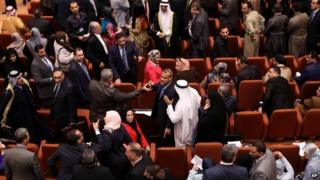 Iraq's new parliament says it will hold its next session on 13 July, nearly a month earlier than previously agreed.
Iraqi MPs had postponed the sitting on Monday until 12 August, but brought the date forward after criticism.
The US said the "dire situation" facing Iraq made forming an inclusive government all the more urgent.
The country's politicians have been urged to unite to defeat a Sunni insurgency led by the Islamic State in Iraq and the Levant (Isis).
The new parliament is yet to agree on the three key posts of prime minister, president and parliamentary speaker.
Its first meeting last week had been due to elect a speaker, but ended without agreement after Kurdish and Sunni Arab MPs walked out.
As the leader of the bloc that won the most votes in elections in April, Prime Minister Nouri Maliki has demanded the right to attempt to form a governing coalition.
But he has faced calls from his Sunni, Kurdish and Shia opponents to step down because of his handling of the current security crisis.
---
Iraq's constitutional timetable
According to Iraq's constitution, the Council of Representatives must elect a new speaker during its opening session
It must choose a president within 30 days of electing a speaker
Within 15 days of the president's election, the largest bloc must nominate a new prime minister
Under a de facto power sharing agreement, the speaker is a Sunni Arab, the prime minister a Shia Arab, and the president a Kurd
After the 2010 elections, it took nine months to form a new government
---
Mahdi al-Hafez, the acting speaker of parliament, said that MPs had moved its next session forward "for the sake of the public interest" and "preserving the continuity of building democracy."
"Any delay in this could jeopardise the security of Iraq and its democratic course and increase the suffering of the Iraqi people," he added.
The central government in Baghdad has lost control of vast swathes of further territory over the past month, and last month Isis declared the establishment of a "caliphate" covering the land it holds in Iraq and Syria.
General killed
Despite receiving equipment and intelligence from the US, Russia and Iran, Iraq's efforts to defeat Isis were a dealt a blow on Monday after a senior general was killed.
Maj Gen Sudani was killed in clashes west of Baghdad, where government troops have been fighting Sunni militants who seized the towns of Falluja and Ramadi in January.
The United Nations has said at least 2,417 Iraqis, including 1,531 civilians, were killed in "acts of violence and terrorism" in June.
The figure does not include fatalities in the western province of Anbar, where the Iraqi authorities say 244 civilians died.