Iraqi Kurdistan profile - Media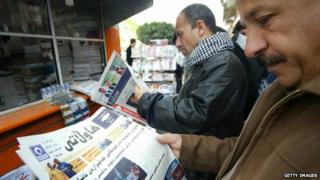 Iraqi Kurdistan has a vibrant media scene with hundreds of broadcast, online and press outlets. The scene mushroomed after the 1991 uprising, but relations between the small independent media and the authorities remain thorny.
The sheer number of outlets often masks the financial and editorial hold of the two governing parties, the Kurdish Democratic Party and the Patriotic Union of Kurdistan, over large sections of the media industry.
Freedom of expression is protected by the Iraqi constitution, but journalists often complain of mistreatment and pressure by the main parties and their security forces, especially during times of unrest.
The unresolved murders of three independent journalists investigating corruption in recent years raise questions about the regional government's record. Rights groups accuse the security services and courts of not doing more in these cases.
Influence of the courts
The regional parliament passed a more liberal media law in 2008, replacing Saddam-era prison terms with hefty fines, but journalists often complain that the courts are not independent and some judges still apply the old law.
Television remains the most popular medium. Most households have satellite receivers, and most channels offer a live feed on their websites. Kurdish channels offer a mix of entertainment and current affairs programmes, with Turkish and Arabic soap operas attracting large audiences. They have begun to air debates, phone-in programmes and political chat shows in recent years.
All the key Iraqi Kurdish parties have at least one satellite channel and a terrestrial station. The Kurdish government does not have its own TV channel, but the regional parliament does. None of the international channels received in the region have dedicated Kurdish services.
Online media are increasingly seen as a challenge to other media, especially the press, as more offices and households have access to the internet.
According to Internet World Stats, there were nearly 900,000 internet users in Iraq in June 2012, giving a penetration rate 7.1%.
This figure is higher in the Kurdistan Region, which enjoys better infrastructure, security and economic conditions than the rest of the country, but no specific figures are available.
Press
Television
Radio
Internet