Iraqi Prime Minister Maliki vows fight for third term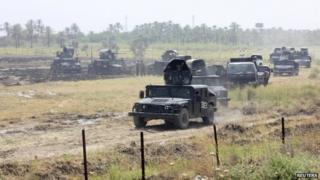 Iraqi Prime Minister Nouri Maliki says he will "never give up" on his bid for a third term in office despite foreign and domestic pressure.
He said he would remain a "soldier" in the fight against Sunni militants.
Mr Maliki's alliance of Shia parties won parliamentary elections in April.
However he is seen by many in Iraq as having exacerbated the crisis in Iraq with policies favouring his own Shia community while marginalising the minority Sunni Arabs.
The US has led appeals to Mr Maliki and other prominent Iraqi political leaders to rise above sectarian and ethnic divisions.
At the same time, some US Congressional leaders - including Republican John McCain - have openly called for Mr Maliki to be ousted, viewing him as unsalvageable.
Mr Maliki earlier rejected demands for a national unity government to help counter the offensive by jihadist-led Sunni rebels, calling instead for political forces to reconcile.
The rebels have occupied swathes of northern and western Iraq, declaring a large region straddling Iraq and Syria a caliphate or Islamic state.
'Regrettable failure'
In a statement read out on state television on Friday, Mr Maliki said: "The State of Law coalition is the biggest bloc and has the right to the premiership and any other side has no right to put conditions."
"I will remain a soldier, defending the interests of Iraq and its people, in the face of the (Isis) terrorists and their allies.
He added that he had made a promise to God that he would continue to fight "until the final defeat of the enemies of Iraq".
Members of parliament, which met for a chaotic first session on Tuesday, have to choose a speaker and elect a president before moving on to the formation of a new government and the issue of a possible third term for Mr Maliki.
The Council of Representatives is due to reconvene on Tuesday.
Iraq's senior Shia cleric, Grand Ayatollah Ali al-Sistani, criticised parliament on Friday for failing to choose a speaker.
He said it was a "regrettable failure" and he urged Iraqis to "avoid the mistakes of the past".
---
Iraq's constitutional timetable
According to Iraq's constitution, the Council of Representatives is required to elect a new speaker during its opening session
It must choose a president within 30 days of electing a speaker
Within 15 days of the president's election, the largest bloc must nominate a new prime minister
Under a de facto power sharing agreement, the speaker is a Sunni Arab, the prime minister a Shia Arab, and the president a Kurd
After the 2010 elections, it took nine months to form a new government
---
Mr Maliki has given no promise of greater representation in the new government for Sunni community, whose anger at what they say are his sectarian and authoritarian policies has been exploited by militants from the Islamic State in Iraq and the Levant (Isis).
Isis rebels have been methodically hunting down non-Sunnis and those opposed to the militants, refugees from rebel-held towns have told the BBC.
Officials and soldiers had been ordered to pledge allegiance to the caliphate declared by the rebels last weekend or face execution.
More than a million people have fled their homes as a result of the recent conflict, and at least 2,461 people were killed in June, the UN and Iraqi officials say.