Final round of Iran nuclear talks starts in Vienna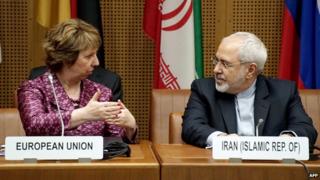 The sixth and final round of nuclear negotiations between Iran and the P5+1 group has begun in Vienna.
The deadline for a deal expires on 20 July, although this could be extended if an agreement is not made in time.
Iran insists it is enriching uranium to fuel power plants, and wants international sanctions to end.
But the West has accused Iran of having military intentions, and wants it to scale back enrichment to ensure the uranium cannot be used in weapons.
The EU's foreign policy chief Catherine Ashton is leading the negotiations on the part of the P5+1 group, which comprises the US, UK, France, China, Russia and Germany.
Iran's Foreign Minister Mohammad Javad Zarif heads the Iranian delegation. He said in an address on Wednesday that Iran was ready to take steps to ensure the peaceful nature of its nuclear programme but that it would not "kneel in submission" to foreign powers.
Both sides are hoping to build on an interim deal agreed in Geneva in November that saw Iran curb enrichment in return for sanctions relief.
But progress since the Geneva deal has been slow, with the last round of talks in May proving unfruitful.
Differences reportedly remain over how much uranium enrichment capacity Iran should be allowed to keep.
Iranian officials have suggested that the deadline could be extended for another six months to allow negotiations to continue.
---
Iran nuclear deal - timeline
20 January - First day of implementation of interim nuclear deal. IAEA begins verifying Iranian compliance; P5+1 and EU suspend sanctions
18 February - Iran and P5+1 begin talks in Vienna to find a "comprehensive solution"
20 July - Expiry of six-month interim period for finding comprehensive solution. If not renewed by mutual consent, P5+1 may increase sanctions
November - Iran and P5+1 aim to "conclude negotiating and commence implementing" the second step of any comprehensive solution
---
After the meeting with the P5+1, Iranian and US officials are to hold bilateral talks on the nuclear issue, Iran's ISNA news agency reported.
Asset freeze overturned
In a separate development, an EU court ruled that sanctions placed on an Iranian university because of alleged links with the nuclear programme were invalid because of a lack of evidence.
The General Court, based in Luxembourg, said that there was insufficient proof that Tehran's Sharif University of Technology was involved.
An asset freeze will continue for two months, however, to give EU governments time to provide more proof.