Egyptian view differs on jailing of al-Jazeera journalists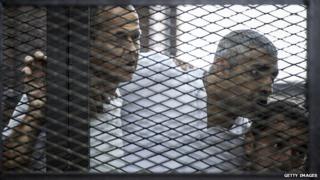 In the West, the trial of the al-Jazeera journalists is overwhelmingly regarded as a huge miscarriage of justice and a frightening crackdown by the Egyptian government on the freedom of the media.
But in Egypt, the story is being told in a very different way.
Here it is being widely portrayed as a fight against supporters of terrorism, a strong rejection of foreign meddling in Egypt's internal affairs, and as a vindication of the Egyptian legal system.
The front pages of Tuesday's newspapers tell their own story.
"Egypt opposes foreign interference in court verdicts," says the state-run al-Ahram al-Masai, in a red font.
Another paper, the private daily al-Tahrir, suggests that the sentences for the al-Jazeera journalists were a direct and defiant response to criticism by US Secretary of State John Kerry, who discussed the issue on a visit to Cairo the day before the trial.
'Independent and glorious'
Saeed al-Lawindi, an international relations specialist at the al-Ahram Centre for political studies, dismisses the foreign criticism.
"The anger from Britain, the US, Holland, Australia is not important to us because we are applying Egyptian law that governs Egypt," he said. "We don't comment on judicial matters in the UK or America, so why should they comment on ours?"
And there was a ringing endorsement of the courts from Egypt's President Abdel Fattah al-Sisi himself.
"Egypt's judiciary is independent and glorious," he said in a speech at a military college. "We must respect the judicial rulings and not criticise them, even if others do not understand this."
In remarks that will distress supporters of the al-Jazeera journalists, President Sisi said he would not interfere in court rulings.
There had been hopes that the new president might consider issuing a pardon.
That is still possible in theory.
But the defendants are focusing on appeals against their sentences, through the Court of Cassation, which is traditionally seen as more sympathetic to the freedom of the press.
Taher Abul-Nasr, a lawyer, says an appeal could take place within the year, and a presidential pardon "can come at any time".
"It is not related to the appeals process; it could be before, during or after that," he said.
'Mouthpiece'
But there are a number of reasons, both domestic and international, as to why President Sisi may not want to consider a pardon for the moment.
He came to power promising to crush the Muslim Brotherhood, which was designated as a terrorist organisation by Cairo in December.
Brotherhood-backed President Mohammad Morsi was ousted by the military last summer following mass protests. Since then, thousands of its supporters have been jailed.
Many Egyptians see the al-Jazeera network as a mouthpiece for the Brotherhood.
They blame al-Jazeera for spreading a violent image of their country abroad, damaging the all-important tourism industry.
Unlike al-Jazeera English - whose reporting is generally regarded as credible and impartial - the network's Egypt-focused channel, al-Jazeera Mubashir Misr, is seen as blatantly pro-Brotherhood. It is blamed for inciting anti-government protests.
Cairo wants it to stop broadcasting.
But al-Jazeera is owned by the government of Qatar, a major Brotherhood supporter.
The row between the two countries is further complicated by the fact that Egypt owes Qatar at least $3bn (£1.8bn) in loans.
Tinged with fear
Journalists Peter Greste, Mohamed Fahmy and Baher Mohamed are caught in the middle.
But not all Egyptians share the official view of the case.
Social media is full of comments criticising the verdicts, although the condemnations are frequently tinged with fear.
For many of those who hoped the 2011 revolution would usher in a new era of social and press freedoms in Egypt, this is a chilling crackdown.
"Nothing can 'protect' [you] from #Egypt injustice" the journalist Muna Al-Tawahi wrote on Twitter. "Journalists had high profiles, foreign passports, etc. Imagine those who [have] none of that."