Iraq muzzles 'channels of sedition'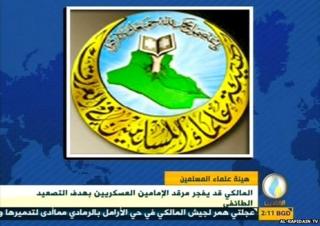 In the wake of the recent dramatic gains made by Isis militants, the Iraqi government appears to be making a concerted effort to muzzle media it considers to be pro-Sunni or overly critical of its policies.
A number of satellite TV channels broadcasting into Iraq from abroad have attracted its ire, and have been dubbed "the channels of sedition" by the government and its supporters.
Two leading Iraqi channels based in Egypt were taken off the air earlier this week at the request of the Iraqi authorities. Cairo-based Al-Rafidain and Al-Baghdadiyah were shut down for "sectarian incitement and threatening of civil peace", according to a statement by the Iraqi communications and media regulator.
While Al-Rafidain is a Sunni channel, Al-Baghdadiyah is a Shia station that has nonetheless been very critical of the Al-Maliki government.
As happened during the Arab Spring uprisings in Libya, Egypt and Syria, the Iraqi government has also shown anger at the tone of coverage on Qatari-backed Al-Jazeera and Dubai-based and Saudi-funded Al-Arabiya. Other "channels of sedition" include the Dubai- and London-based Al-Sharqiyah News and the Amman-based Baghdad TV.
Pro-government journalists have held protests outside the Defence Ministry calling on the government to shut down "seditious" channels.
Following the seizure of Mosul, the Iraqi government's efforts to silence its opponents have also extended online. Internet access has been interrupted and social media sites such as Facebook, Twitter and YouTube have been blocked in the country's Sunni-dominated governorates.
An official statement said the blocking of social media sites was required because "the country's situation needs it". Iraqi sources loyal to the government claim that Isis distributed fabricated images online through social media, which helped sow sedition and instability.
These moves to silence opposing voices and limit the freedom of speech for the stated aim of protecting national unity and fighting terrorism suggest that the Iraqi government has learnt lessons from the upheaval that has swept the Arab world since 2011.
Key among those is that social media gives militants a free space to promote their narrative and connect to their sympathisers and backers.
BBC Monitoring reports and analyses news from TV, radio, web and print media around the world. For more reports from BBC Monitoring, click here. You can follow BBC Monitoring on Twitter and Facebook.