Palestinian killed as hunt for Israeli youths continues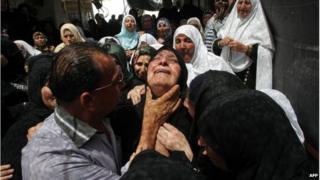 A Palestinian teenager has been killed during clashes with Israeli troops searching for three Israeli teenagers believed abducted in the West Bank.
Mohammed Dudin, 15, was shot after violence flared following an arrest raid in village of Dora.
Israel's military says its troops responded with live fire after being attacked with rocks and fire bombs.
Hundreds of Palestinians have been arrested in the hunt for the teenagers, who went missing eight days ago.
Mohammed Dudin is the second Palestinian to have been killed in clashes with Israeli forces searching for the teenagers in the past week.
Israel has accused Hamas of abducting the teenagers. Its search operation has been accompanied by a crackdown on Palestinians linked to Hamas in the West Bank.
No group has claimed to have taken the students.
Emergency call
Palestinian medics say Mohammed Dudin was shot in the chest early on Friday morning.
A statement from the Israeli military said its forces were attacked by a crowd "during a mission to detain a known Hamas terrorist".
The Israeli military says it has searched more than 1,000 sites in the hunt for the students.
Naftali Frenkel and Gilad Shaar, who are both 16, and 19-year-old Eyal Yifrach went missing at a junction near the city of Hebron as they hitchhiked their way home. Naftali Frenkel holds US-Israeli citizenship.
Earlier this week, the Israeli police revealed that one of the students had alerted them by phone, minutes after being kidnapped.
However, no action was taken over the call for five hours because the police thought it was a prank.
Hamas criticism
On Wednesday, Palestinian Authority President Mahmoud Abbas accused Israel of using the teenagers' disappearance "a pretext to impose tough punishment against our people and besiege them".
The statement from Mr Abbas said that the Palestinian Authority was co-ordinating efforts with Israel in the search.
His comments drew sharp condemnation from Hamas, which said the remarks were "unjustified" and "harmful" to the Palestinian reconciliation deal between it and Mr Abbas's Fatah faction.
A unity government supported by Hamas was formed this month, replacing the rival administrations in the West Bank and Gaza.