Dashed dreams of a Syrian refugee stuck in Jordan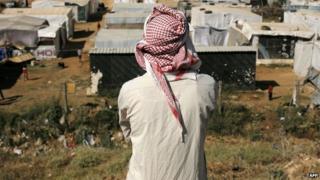 The BBC's Dale Gavlak meets Moussa, a Syrian refugee stranded in Jordan and desperate to join his family in Europe and get his life and career back on track.
Nothing so far is turning out the way this young Syrian man has planned.
Success as a university student in English, a language not many Syrians learn, coupled with promising work as a salesman back home in the northern Syrian town of Qamishli once meant that Moussa could look forward to great future job prospects.
But all of that changed when he and his brother were forced to flee recently to Jordan for their lives.
Becoming a refugee was the last thing on this ambitious man's mind.
"My brother and I escaped because of the dangers of kidnapping and killing of Christians in northern Syria," said the 33-year-old dressed in a grey T-shirt and baseball cap. "Christians are perceived to have money and that's why they are kidnapped by Islamist militants."
"We knew people who were held for ransom and felt it was unsafe for us to stay any longer in Syria," the young man said, nervously.
"On top of that, there are many difficulties of just living in Syria. There is no work, prices have shot up. Water and electricity aren't available. Actually there is nothing left," he said.
Second attempt
Desperate to reunite with most of their family now safely in Europe, Moussa and his brother Samir then paid thousands of pounds to a human trafficker to help them travel abroad.
Human cost of war and persecution
51.2m
people forcibly displaced worldwide
2.6m fled Afghanistan

1.6m refugees live in Pakistan

1.2m asylum claims worldwide
GETTY
Instead, the pair found themselves scammed, out of pocket, and on the opposite side of the world - in China.
Back in Jordan, with their life savings of £20,000 (25,000 euros) wasted, they almost gave up hope of seeing their mother again and the chance to start a new life.
Except the pair are trying their chances once again and are about to fly to Istanbul, Turkey, in search of yet another way to reach their family. Moussa is hoping to be luckier second time around.
He had been sleeping in a room about the size of a small cupboard in one of the Jordanian capital's churches, sheltering with about two dozen other Syrian refugees.
The old church, perched on an Amman hill, overlooks the white limestone cityscape glistening in the sunshine. The magnificent view is one of the few comforts Moussa had enjoyed.
The young entrepreneur has been frustrated about his dashed dreams for the future and his current circumstances.
Risk-taker
Desperate, he seems almost willing to do anything to get to Europe quickly, and despite my cautions to him to be patient and use only legal channels to try to travel to his family, I discover that he is taking yet another perilous risk that might turn up trumps.
"The Jordanian government doesn't allow Syrians to work. Time is heavy on our hands. I feel like my life is passing me by," he told me.
"Now, my life consists of sleeping and thinking. It's really difficult," he said, tearing up.
"I want to continue my studies, get a job, marry and start a family, like anyone else."
Moussa is among the 600,000 Syrians registered with the United Nations refugee agency in Jordan, who have fled the bloody civil war grinding on into its fourth year.
But the authorities say there are over one million Syrians sheltering here.
More than 300,000 Iraqi refugees are still in Jordan since the 2003 US led invasion which toppled Saddam Hussein and their numbers, too, are growing as the Islamic State of Iraq and the Levant (ISIS) militants sweep through Iraq's beleaguered north and centre.
Moussa had the rare opportunity last month to meet Pope Francis during the pontiff's pilgrimage to Jordan and the Holy Land. "I want the Pope to pray for us, for peace in Syria and for the war to end," he told me.
"The Pope said that he doesn't want Christians to leave the Middle East. But if you stay here, maybe some people will be killed and others face great difficulties, so what do we do?" the refugee asked. "We hope he will find a solution for us."
Meanwhile, Moussa and his brother are taking matters into their own hands, in hopes of entering Europe, even illegally and at great risk.