Egyptian court clears former Mubarak minister Habib el-Adly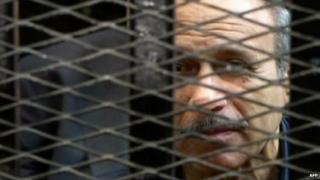 A court in Egypt has cleared former Interior Minister Habib el-Adly, who served under deposed President Hosni Mubarak, of charges of corruption and money laundering.
El-Adly was being retried after receiving a 12-year sentence in 2011.
He ran Mubarak's security services for more than 10 years before the Egyptian leader was overthrown in the same year.
Correspondents say he will stay in jail because he was convicted in an earlier case and faces charges in others.
El-Adly was also sentenced, along with the former president, to life imprisonment in 2012 over the killing of protesters.
But that verdict was overturned on technical grounds and the pair are now being retried along with six police commanders.
In May, Mubarak was sentenced to three years in prison after he was found guilty of embezzling public funds. His sons Alaa and Gamal each received four-year terms.
However their court appearances have been in part overshadowed by other high profile court cases - including the 15-year sentence for pro-democracy activist Alaa Abdul Fattah handed down on Wednesday.
Criminal proceedings are also ongoing against ousted Islamist President Mohammed Morsi, who is standing trial on a raft of charges along with many senior leaders of his Muslim Brotherhood movement.
Official results gave new Egyptian President Abdul Fattah al-Sisi 96.9% of the vote in May's elections.
However, turnout was below 50%, as Mr Morsi's Muslim Brotherhood and some liberal and secular activists urged a boycott of the poll.