Egypt's President Sisi apologises to sex attack victim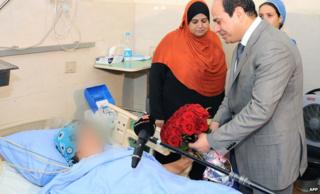 Egypt's new president has apologised in person to a woman who was sexually assaulted by a mob during celebrations over his election.
State media showed President Abdul Fattah al-Sisi presenting flowers to the victim, whose face was blurred.
It comes after a graphic video apparently showing a woman being stripped naked and attacked in Cairo's Tahrir Square went viral.
A string of assaults during the recent celebrations have caused uproar.
Women's rights groups have accused the authorities of failing to address the issue of sexual harassment.
'Strict measures'
On Tuesday, a presidential spokesman said Mr Sisi had ordered officials to enforce a new law making sexual assault a crime for the first time.
The law decrees that those found guilty of harassment in public or private will face up to five years in prison and a maximum fine of 50,000 Egyptian pounds ($6,990; £4,160).
State-run television showed the president visiting a woman, whose identity has been kept anonymous, at a military hospital in Cairo on Wednesday.
"I apologise and promise you that as a state we will not accept that such incidents will take place in the future," he told her.
"We will take strict measures and we will stand strong in the face of any harasser."
An eyewitness told the privately-owned CBC TV channel that several hospitals had refused to treat the woman, who was left severely burned and bleeding. A fee of 11,000 Egyptian pounds ($1,500) was charged before the victim was treated, she added.
'Horrifying'
The president's visit came after a video purportedly showing a recent attack in Tahrir Square was posted on social media websites.
It shows a group of men surrounding a woman, the lower part of whose body is naked and bloodied.
A policeman is then seen struggling to rescue the woman as fireworks explode in the background.
Towards the end of the video, the woman appears to have been stripped completely naked. She eventually reaches an ambulance parked nearby.
It is not clear when the video was filmed, but witnesses said similar assaults took place during celebrations that followed Mr Sisi's inauguration on Sunday.
Seven men were arrested on Tuesday on suspicion of sexually assaulting women at Sunday's festivities. Judicial sources said the arrests were made under the new law.
Activists are calling for a march against sexual harassment on 14 June in Cairo.
A 2013 UN study said that nine out of 10 Egyptian women had experienced some form of sexual assault, ranging from minor harassment to rape.
Human rights campaigners have describe the extent of the problem in Egypt as "horrifying".
Incidents have soared in the three years since the 2011 overthrow of Hosni Mubarak.