Egypt arrests seven over Tahrir Square sexual assaults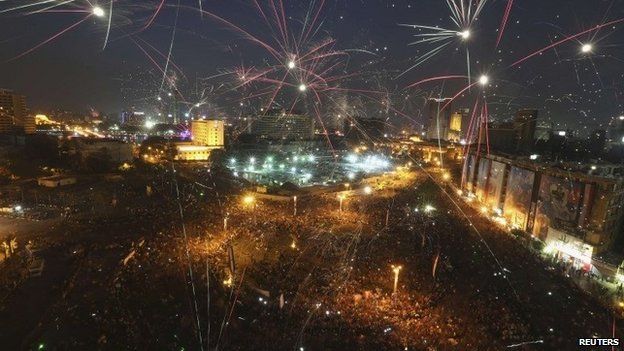 Seven men have been arrested on suspicion of sexually assaulting women at Sunday's celebrations for the inauguration of Egypt's new president.
The arrests come amid growing outrage over a graphic video that appears to show a woman being stripped naked and attacked in Cairo's Tahrir Square.
It is not clear when it was filmed, but witnesses told the BBC similar assaults had taken place there on Sunday night.
Last week, the government made sexual harassment a crime for the first time.
The new law decrees that those found guilty of harassment in public or private will face up to five years in prison and a maximum fine of 50,000 Egyptian pounds ($6,990; £4,160).
Activists welcomed the law, but warned it remained to be seen whether it would be enforced by police.
An organisation which campaigns against sexual harassment told the BBC that its volunteers had helped at least five victims who were attacked by mobs during Sunday night's celebrations in Tahrir Square after the inauguration of President Abdul Fattah al-Sisi.
Four of the victims required hospital treatment, including a pregnant woman and a mother and her young daughter.
The interior ministry said the seven men who had been arrested were aged between 15 and 49, and were accused of "harassing several girls".
The announcement came after a video purportedly showing a recent attack was posted on social media websites.
The footage shows a group of men surrounding a woman, the lower part of whose body is naked and bloodied.
A policeman is then seen struggling to rescue the woman as fireworks explode in the background. At one point, he draws his gun.
Towards the end of the video, the woman appears to have been stripped completely naked. She eventually reaches an ambulance parked nearby.
The user who uploaded the video said it was filmed in Tahrir Square on Sunday, but it appears that it was first posted online on Wednesday.
There was also growing anger on Monday over another video clip of comments by a female anchor on a private TV channel, al-Tahrir.
When told about the reports of sexual assaults in Tahrir Square on Sunday, she laughs and says: "It's because they are happy."
The anchorwoman later apologised for her comment about the assaults, saying she thought they were only rumours, a local newspaper reported.