Iran video 'supports claims of rigging in 2009 poll'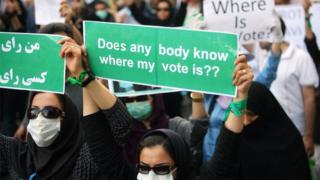 A video has emerged of a speech by an Iranian military commander that appears to back claims that the 2009 elections were rigged against the reformists.
The recording, which has been posted on the internet, features Mohammed Ali Ja'fary, the head of the Revolutionary Guards, addressing officials.
He can be heard saying that a reformist election victory seemed likely - but would be unacceptable to the Guards.
The reformists eventually lost the race, prompting huge street protests.
Hundreds of thousands of people demonstrated in the capital, Tehran, claiming that their votes had been stolen.
In the ensuing crackdown, hundreds were killed and thousands jailed.
The video of the speech was obtained and posted on the internet by Mohammed Nourizad, a well-known dissident in Tehran.
He says the tape is shameful evidence that the 2009 election was rigged in favour of the then-President Mahmoud Ahmadinejad, who was running for his second term.
The unrest that followed the election seriously undermined the legitimacy of the government.
The damage to the Islamic system's reputation convinced Iran's hardline leaders that they should tolerate the election of Hassan Rouhani, a relative moderate, in the following presidential election, held last year.
In their view, it was important to avoid another round of unrest that would threaten the stability of the whole system of government.