Iraq violence: Bombing hits Baghdad Shia mosque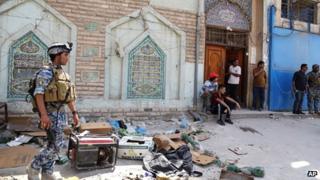 At least 17 people were killed when a suicide bomber blew himself up at a Shia mosque in the centre of Iraq's capital, Baghdad.
The attack occurred as worshippers prepared to attend midday prayers in the Shorja district of the capital. No-one has claimed responsibility so far.
Last week, at least 24 Shia Muslim pilgrims were killed in three bombings in Baghdad.
The country has been without a government since last month's polls.
A bomb also went off in the eastern Shia district of Sadr City, killing two, police said.
In April's parliamentary elections, Prime Minister Nouri Maliki's Shia-dominated State of Law alliance won the largest number of seats.
Negotiations over forming a coalition government are under way.
Other parties have voiced strong opposition, blaming the prime minister for the sectarian violence that has left more than 3,500 people dead this year, and accusing him of trying to monopolise power.