Jordan expels Syrian ambassador over 'repeated insults'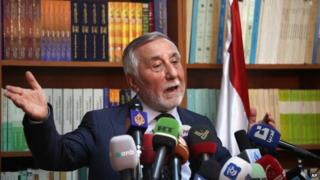 Jordan says it has expelled the Syrian ambassador over "repeated insults" against the kingdom.
The Jordanian foreign ministry said it considered Bahjat Suleiman a persona non grata and gave him 24 hours to leave the country.
It said he had made numerous false allegations, accusing Jordan of harbouring Syrian rebels.
Syria has responded by expelling the Jordanian charge d'affaires in Damascus.
The Syrian ministry of foreign affairs denounced the decision to expel Mr Suleiman as "unjustified", Syrian state media said.
'Warnings'
Jordan is host to about 600,000 people fleeing the escalating conflict in Syria between forces loyal to President Bashar al-Assad and opposition fighters.
Mr Suleiman in the past has referred to the refugees as "terrorists" on Facebook, AFP news agency reports.
Sabah Al Rafei, spokeswoman for the Jordanian foreign ministry, said Mr Suleiman had violated diplomatic protocol by posting repeated comments on social media that criticised Jordan and its Gulf allies.
Jordan took the decision to expel him "after the envoy continued his insults and un-friendly statements against Jordan, Jordanian political figures, national institutions and citizens... despite repeated warnings," she said, quoted by state-run news agency Petra.
More than 160,000 people have died and millions have been displaced since the civil war broke out in Syria in March 2011.
Syrians are due to vote on 3 June in a presidential election branded a sham by the West.