Syria crisis: Mortars 'kill 20' at pro-Assad rally in Deraa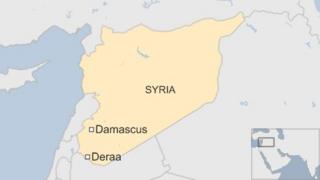 Mortar fire has hit an election rally in support of President Bashar al-Assad in southern Syria, killing at least 20 people, state media and activists say.
The attack happened as Assad supporters gathered in a tent in the city of Deraa on Thursday evening. President Assad was not at the event.
At least 30 people have been injured, the UK-based Syrian Observatory for Human Rights reports.
Syrians are due to vote on 3 June in an election branded a sham by the West.
The president is facing two other challengers, but he is widely expected to secure a third seven-year term in office - despite a brutal civil war now in its fourth year.
Thursday's attack happened in the al-Matar district of Deraa, said the Observatory, which relies on reports from a network of activists on the ground.
It said the strike was carried out by an Islamist rebel brigade, and killed 11 civilians - including one child - and pro-government militiamen.
The attack "is a clear message from rebels to the regime that there is not one safe area in which to hold the election", the Observatory's director Rami Abdel Rahman told the AFP news agency.
'Parody of democracy'
This is the first time in decades that Syria is holding a multi-candidate presidential election.
Previous presidential terms have been called through a referendum with just one member of the Assad family on the ballot paper.
However, the other two candidates are not widely known and have been unable to campaign on an equal footing with the president, correspondents say.
Earlier this month, UK Foreign Secretary William Hague called the elections a "parody of democracy" and repeated its call for Bashar Assad to stand down.
The outgoing UN-Arab League peace envoy Lakhdar Brahimi has warned that international peace talks - which have tried to bring together the Assad government and the opposition - could be jeopardised if the elections take place.
More than 160,000 people have died and millions displaced in a conflict that began as an uprising against Bashar Assad in March 2011.