Egyptian policemen killed in Cairo drive-by shooting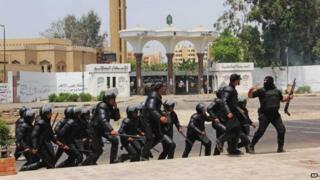 Three policemen have been killed in a drive-by shooting in the Egyptian capital, Cairo, officials say.
Eleven people were also wounded when gunmen travelling in two cars opened fire on the officers outside al-Azhar University on Monday night.
The interior ministry said the officers had been trying to disperse a student protest in support of Mohammed Morsi.
Jihadist militants have killed hundreds of security personnel since the army overthrew the president last July.
The militants say they have stepped up attacks in response to the state's subsequent crackdown on Mr Morsi's Muslim Brotherhood, in which more than 1,400 people have been killed and 16,000 detained.
On Monday morning, gunmen shot dead two policemen as they were riding a motorbike along a motorway in the central city of Minya.
The policemen were reportedly targeted after the end of their shifts.
In a separate attack, a gas pipeline was blown up late on Monday near al-Arish airport in the restive northern Sinai peninsula, where many of the jihadist militants are based.
The pipeline transported gas to an industrial area in central Sinai.
The violence comes a week before a presidential election that former army chief Abdul Fattah al-Sisi, who ousted Mr Morsi, is expected to win.
The retired field marshal has promised to crush the militants and that the Brotherhood - declared a terrorist group in December - will "not exist".