Yemen soldiers killed near Sanaa presidential palace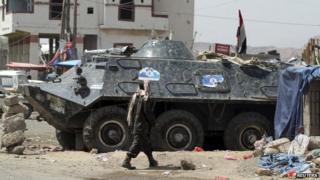 At least four Yemeni soldiers have died in a gun battle with militants outside the presidential palace in the capital, Sanaa, according to reports.
A security source said the clash broke out when gunmen in a vehicle tried to attack a gate outside the palace.
An explosion was also heard near a building used by the security services in the capital.
The Yemeni military is mounting a major offensive against al Qaeda-linked militants.
Heavy gunfire resounded through Sanaa for about an hour as presidential security guards battled with militants, witnesses say.
Retaliation
There were reports of casualties on both sides.
President Abdrabuh Mansur Hadi was not believed to be at the palace at the time.
As fighting raged there, an explosion was heard in another district of the capital near a building used by the security services.
Officials quickly blamed al-Qaeda-linked militants for the attacks, the BBC's Arab affairs editor Sebastian Usher reports.
But they denied earlier reports that the defence minister had survived an assassination attempt in the south where the army is mounting a new offensive against al-Qaeda.
Yemen's state news agency Saba said security forces in Sanaa killed an al-Qaeda commander, Mohammed Said al-Shabwani, on Thursday after he resisted arrest.
State media earlier said foreign fighters were among those killed or captured in the military campaign in the past week. Two French nationals were arrested on Thursday, Saba reported.
Last year, the army managed to drive al-Qaeda out of towns the group had taken over in southern Yemen amid the chaos triggered by a mass uprising against the veteran President Ali Abdullah Saleh in 2012.
But this year, its members appear to have regrouped, carrying out a wave of attacks on security targets, correspondents say.