Egyptian media shock at more mass death sentences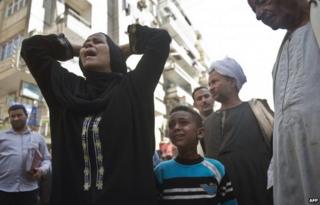 There was shock and dismay in Egypt's media over a second wave of draconian sentences handed out against the Muslim Brotherhood.
The recommendation by an Egyptian judge to execute 683 Brotherhood supporters, on charges of murdering a police officer and committing violence in Al-Minya province, continues a crackdown on the movement that started when President Muhammad Morsi was ousted last August.
Relatives of the defendants and rights activists are outraged. But some guests on TV shows have expressed support for the ruling as way of cracking down on perceived acts of terror.
Their sentences have now been referred to the Mufti, Egypt's highest religious authority, for vetting.
'Legal disasters'
These verdicts are "fair, objective and normal", according to the governor of Al-Minya, who was interviewed on private ON TV Live.
The channel showed footage of defendants' relatives weeping and screaming in a street close to the court venue. Privately-owned Veto Gate portal posted photos of family members fainting after hearing them.
The Muslim Brotherhood's Freedom and Justice portal described the verdicts as "shocking and unexpected". It said they constituted a series of "legal disasters" considering that "defendants were not present and no testimonies were heard" at the trial.
A presenter on Rabi'ah TV, a Muslim Brotherhood channel based in Turkey raised questions about the justice system in Egypt: "All those who corrupted political life in Egypt were acquitted while the innocent are given death sentences," he said.
Egyptian presidential hopeful Hamdin Sabahi on the website of the private Al-Yawm al-Sabi urged the judiciary to "correct" the rulings, which he said were tarnishing Egypt's image.
But some state-run sources took a different view. The editor of Al-Ahram al-Masa'i paper, Salamah Harbi, said that even more defendants should have been sentenced "because they used violence, intimidated civilians and damaged their property".
Al-Ahram correspondent Hajaj al-Husayni said on Nile TV that the verdict was passed because the defendants "disrupted public order and national security".
Dissent on social media
Social media users heavily criticized the ruling.
Well-known Egyptian blogger Wa'il Abbas said the court verdict is a "scandal for the Egyptian judiciary".
Prominent Egyptian journalist Ala Sadiq tweeted to his followers: "Stalin, Mussolini, Hitler, Nasir, Al-Asad, Sadam and Al-Qadhafi did not do to their people what [presidential hopeful Abd-al-Fattah] Al-Sisi is doing now with the Egyptian people," he wrote.
"Egypt's courts are the source of some of the worst injustices," writer and feminist Muna al-Tahawi tweeted.
Lawyer and prominent activist Jamal Id sarcastically observed on Twitter that: "Egypt is moving ahead with its future roadmap, with a tendency to reduce the number of its population by execution."
Analyst Dr HA Hellyer tweeted: "Someone needs to tell this judge he already broke the world record for death sentences."
BBC Monitoring reports and analyses news from TV, radio, web and print media around the world. For more reports from BBC Monitoring, click here. You can follow BBC Monitoring on Twitter and Facebook.