Egypt gives Hamas and Gaza the cold shoulder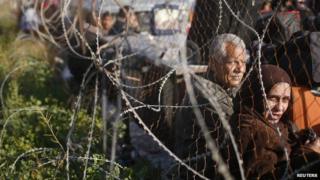 Egypt's crackdown on the Muslim Brotherhood has led to a sharp deterioration in relations with the Islamist group Hamas in neighbouring Gaza, and the people there are paying the price.
As a coach forces its way through the crowds on the Palestinian side of the Rafah terminal, Ramzi Abu Shawarib heaves a sigh of relief.
He refolds a fleecy blanket around his pale-faced, sick, little daughter and they join the passengers surging forward to climb aboard.
In his hand he clutches a hard-won permit that will let him travel across the border from Gaza to a hospital in Egypt.
As their suitcase is hauled onto a trailer, Ramzi tells me how four-year-old Rimass was left with a neurological disorder after local doctors gave her the wrong medication.
"Last year I was told she should see specialists in Egypt but until now we couldn't get there, The border's been closed too often," he says.
The Rafah border crossing is Gaza's main gateway to the world but recently Egypt has kept it shut for months at a time.
Relations with Gaza's Hamas government have dramatically worsened since Egypt's elected president Mohammed Morsi was ousted last summer following mass protests.
Hamas was closely aligned with Morsi and his Muslim Brotherhood movement.
Now Cairo's new military-backed authorities accuse Hamas of meddling in their affairs. They have banned all its activities.
And ordinary Palestinians feel the consequences.
Already hundreds of smuggling tunnels under Egypt's border have been destroyed by its troops.
They used to act as a lifeline to get around restrictions that Israel tightened seven years ago after Hamas wrested control of the Palestinian territory from Fatah forces loyal to the president, Mahmoud Abbas.
Trade is visibly down at a market in southern Gaza.
"Nobody can bring in goods any more and people are suffering," says a grizzled stallholder, Waleed, "our economy's at zero."
Without the tunnel business, unemployment has risen sharply.
There is a shortage of building materials.
And there is no cheap, subsidised Egyptian fuel. That means longer power cuts.
Jamilla, a housewife out shopping, says: "The electricity's eight hours on, eight hours off. Sometimes we get less.
"I cook in the dark. My kids do their homework in the dark," she adds.
Back in Gaza City, I find the veteran human rights campaigner Raji Sourani looking uncharacteristically miserable.
"Egypt's added another dimension to this siege that's suffocated Gaza socially and economically. It's a collective punishment. We're reduced to hostages and beggars," he says.
"And I don't think anybody should expect Gazans to be good victims. Things will ultimately explode."
Already there have been explosions. Last month fighters from Islamic Jihad in Gaza launched a barrage of rockets at their historic enemy, Israel.
Israel retaliated with air strikes on militant targets in Gaza. It was the most serious violence in over a year.
On that occasion Egypt intervened to help restore calm but called on Islamic Jihad directly, snubbing the Hamas authorities.
Hamas - which fell out with its other regional patrons Syria and Iran earlier during the Arab uprisings - was left feeling even more squeezed.
A massive rally held soon after in Gaza was meant as a show of force.
Hamas leaders spoke defiantly about Israel and the failing peace talks led by their political rival, President Abbas.
But some also criticised Egypt and what they called its military coup.
That's a risky strategy with the former head of Egypt's armed forces, Abdul Fatah al-Sisi, the front-runner in forthcoming presidential elections.
Wondering what the future holds for Gaza, I stop off at a new restaurant to sample its traditional Egyptian fare and the views of its Egyptian owner.
Abu Muad serves up a hearty heap of koshari - a mixture of rice, pasta, lentils and chickpeas - topped with fried onions. Then, finally he offers some optimism.
"If the Palestinians hated the Egyptians or vice-versa nobody would come to my shop," he remarks.
"I think after next month's vote, Egypt will be more stable and everything will improve," he adds.
For now though the shiny posters of the Pyramids at "the Nile Koshari restaurant" are the closest most Gazans can get to neighbouring Egypt.
How to listen to From Our Own Correspondent:
BBC Radio 4: Saturdays at 11:30 and some Thursdays at 11:00
Listen online or download the podcast.
BBC World Service: Short editions Monday-Friday - see World Service programme schedule.
Follow @BBCNewsMagazine on Twitter and on Facebook