UN warns of Syria food shortage due to looming drought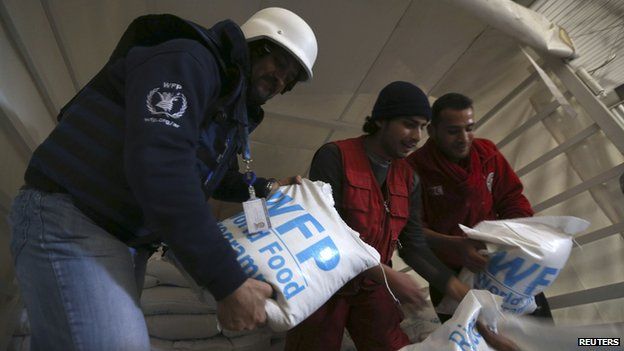 The UN has warned that a drought in Syria could lead to a record low wheat harvest and put millions of people at risk.
The World Food Programme (WFP) said rainfall since September has been less than half the long-term average.
At the same time, WFP food aid has been cut by a fifth due to a lack of funds from international donors.
Over 100,000 people have been killed since fighting broke out in Syria more than three years ago.
"WFP is concerned about the impact of a looming drought hitting the northwest of the country, mainly Aleppo, Idlib, and Hama," WFP spokeswoman Elisabeth Byrs told reporters in Geneva.
"A drought could put the lives of millions more people at risk," she said.
Up to 6.5 million Syrians could need emergency food aid as a result, up from the current figure of 4.2 million, Byrs said.
As a result of the drought, Syria could be forced to import more than than the 5.1 million tonnes of wheat it needed last year, the WFP said in a report.
Syria was last hit by a drought in 2008, three years before the outbreak of the civil war.
On Monday, the WFP announced that it had to cut the size of its food parcels to Syrian families by 20 per cent.
It blamed delays in receiving funds from international donors, saying it has only received 22% of the funds it needs for its operations in Syria.
The WFP says it provided food for a record 4.1 million people in Syria in March.
Meanwhile, Syrian state media says that that Iran has sent an extra 30,000 tonnes of food supplies to the country.