Cleric Omar Bakri 'on the run' in Lebanon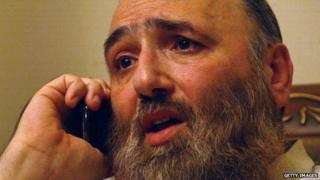 Omar Bakri Mohammad is on the run in Lebanon, officials say, after his house was raided as part of an operation to end the sectarian violence in Tripoli.
The Sunni Muslim cleric is among 200 individuals wanted in connection with their alleged role in clashes that have left 30 people dead in recent weeks.
Before disappearing, Mr Bakri dismissed the authorities' claims as "unjust".
He settled in Tripoli after leaving the UK, where he lived for 20 years, in 2005 and being banned from returning.
Mr Bakri was often accused of links with al-Qaeda, which he denied.
Crackdown
The Lebanese authorities said the cleric, who was born in Syria and also holds Lebanese nationality, was wanted on charges relating to endangering national security.
He is being sought by security forces in Tripoli as they crack down on those involved in the deadly clashes between the Sunni majority and minority Alawite community in the northern city, reports the BBC's Jim Muir in Beirut.
The two communities are deeply divided over the war in neighbouring Syria, where they back different sides, our correspondent adds.
Syria's President Bashar al-Assad is an Alawite and members of the heterodox Shia sect occupy key positions in the government and security forces. The country's majority Sunni community has meanwhile been at the forefront of the uprising against the state.
The Lebanese army said it had arrested 75 people during Tuesday's operation in Tripoli, which saw troops moving into the main conflict areas - the Sunni district of Bab al-Tabbana and the neighbouring Alawite district of Jabal Muhsin - to try to quell the clashes.
But when the soldiers stormed Mr Bakri's house in the city centre, they found that he had already fled. His wife told local media that she did not know where he was.
The cleric has been an outspoken critic of Mr Assad and his allies inside Lebanon. He called for Lebanese Sunnis to unite after Tuesday's raid.
Our correspondent says he was one of the best-known radical Islamist preachers in London for years.
After moving to Tripoli, he accused the UK government of spending hundreds of thousands of pounds to keep him under surveillance there.