Al-Jazeera trial: Peter Greste calls charges 'preposterous'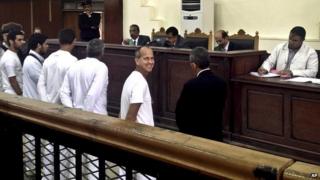 Al-Jazeera journalist Peter Greste, currently on trial in Egypt, has called charges of aiding the banned Muslim Brotherhood "preposterous".
Mr Greste and two other Al-Jazeera reporters were denied bail on Monday in the high-profile case.
The journalists pleaded their innocence after being let out of a metal cage briefly to directly address the judge.
They are among 20 people facing charges of spreading false news and aiding a terrorist organisation.
Only eight are currently in custody, while the remaining 12 are being tried in absentia.
The Muslim Brotherhood was designated a terrorist organisation in December, five months after the military ousted Egypt's first democratically elected president, Mohamed Morsi.
The interim government and its supporters have accused international news networks of bias in their reporting of human rights abuses against Morsi supporters and secular dissenters.
Out of the cage
Mr Greste and the other journalists on trial stand accused by the military-backed Egyptian authorities of providing a platform for the Muslim Brotherhood.
But the defendants have denied the charges, saying they were just doing their job.
In Monday's hearing, Mr Greste, Al-Jazeera Cairo bureau chief Mohamed Fadel Fahmy and producer Baher Mohamed were briefly freed from the cages in the courtroom and lined up before the judge to argue their case.
It was a dramatic moment which defence lawyers said was unprecedented, says the BBC's Orla Guerin outside the courtroom.
All three al-Jazeera journalists have insisted they were innocent of the charges.
"My knowledge of Arabic is effectively zero," Mr Greste told the judge.
"The idea that I could have an association with the Muslim Brotherhood is frankly preposterous."
Mr Fahmy, who is Canadian-Egyptian, asked the judge for an acquittal.
He denied being terrorist or a member of the brotherhood, telling the judge he was an alcohol-drinking liberal who had lived abroad for a long time.
"Have you ever heard of a [Muslim] terrorist that drinks alcohol?" he asked.
The judge refused their request for bail and adjourned the case until 10 April.
The three journalists have been detained since last December.
The reporters were seized in a raid at a Cairo hotel while reporting for the Qatar-based network's English news channel.
The trial, which opened in February, has drawn international uproar, with protests all over the world calling for their release.
It marks the first time journalists have been charged with terrorism-related offenses in Egypt, amid fears of a media crack down by the military-backed authorities.