Palestinian-Jordanian man shot dead at border crossing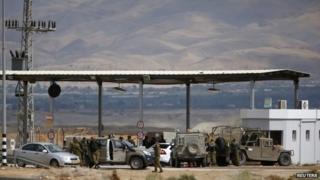 A Palestinian-Jordanian judge has been killed by Israeli soldiers as he crossed from Jordan into the West Bank.
The Israeli military said Raed Zaytar, 38, was shot after he attempted to grab a soldier's rifle and then strangle him at the Allenby Bridge crossing.
Originally from the West Bank town of Nablus, Mr Zaytar had been working as a magistrate in Jordan since 2009.
The Palestinian and Jordanian governments have strongly condemned the killing and demanded an investigation.
An Israeli diplomat was also summoned by Jordan's foreign minister.
'Peaceful'
Mr Zaytar had been on board a bus that transports people from the Jordanian side of the border to the West Bank with about 50 others on Monday morning when it was stopped by Israeli soldiers.
Describing Mr Zaytar as a "terrorist", the Israeli military said that after getting off the bus he "ran towards the soldiers yelling 'Allahu akbar', attempting to seize their weapons".
"The soldiers felt an immediate threat to their lives and fired toward his lower extremities. The suspect then began to strangle a soldier and the force resorted to firing again," it added.
Palestinian officials said Mr Zaytar had last visited the West Bank in 2011, while officials in Jordan said he had worked at a magistrate's court.
"We did not know that Raed was in the West Bank. I went to the court to check if he was working and I was told that he did not go to work today," his 70-year-old father, Alaa, himself a former judge, told AFP by telephone. "My son was peaceful and professional."
He said he did not know what his son's business was in the West Bank.
The Palestinian Authority said it vigorously condemned the "shooting at close range" of the judge and had demanded the formation of an international investigative committee.
Jordan's Foreign Minister Nasser Nasser Judeh meanwhile summoned Israel's charge d'affaires in Amman to express his strong condemnation of the shooting, which he said was "completely unacceptable" and required immediate investigation.
The Palestinian official in charge of border crossings, Nazmi Muhanna, said the other passengers on Mr Zaytar's bus were being questioned.
"We will verify everything," he told the AFP news agency. "There are no surveillance cameras there so we cannot get to the truth without the witnesses who were on that bus."
The border terminal, which is operated jointly by Israel, Jordan and the Palestinian Authority, was closed for several hours following the incident.
The BBC's Yolande Knell, who is at the crossing, said the shooting was an unusual incident.
In a separate development on Monday, an Israeli court sentenced an Israeli-Arab man to 25 years in prison for a bomb attack on a bus in Tel Aviv that wounded 26 people.
Mohammed Mafarja, 19, pleaded guilty to charges included attempted murder in connection with the attack in November 2012, at the end of an eight-day conflict between Israel and Palestinian militants in Gaza.