Obama warns Israel's Netanyahu over peace talks failure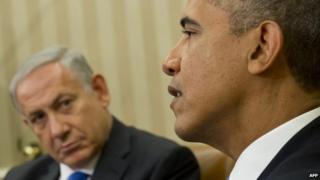 President Barack Obama has warned Israel of "international fallout" if it does not endorse a US framework for a peace deal with the Palestinians.
Ahead of talks at the White House, Mr Obama told the Bloomberg news agency that Prime Minister Benjamin Netanyahu needed to "seize the moment".
But Mr Netanyahu reacted defiantly, vowing: "I won't give in to pressure."
There has been little sign of progress from the direct talks that resumed in July after a three-year hiatus.
At the time, Washington said it sought to achieve a deal on a solution to the decades-old conflict by 29 April, but officials say a framework accord on core issues would enable negotiations to continue beyond that date.
'Vital interests'
The BBC's Kim Ghattas in Washington says Mr Netanyahu wants Monday's talks to focus on Iran's controversial nuclear programme.
He believes the US and other world powers are being naive in their negotiations with Tehran, and he is opposed to an agreement that would allow uranium enrichment to continue at low levels.
But Mr Obama is unlikely to budge and is planning to press the Israeli prime minister on peace with the Palestinians, our correspondent adds.
The US president wants both sides to agree to the framework document - not yet made public - proposed by his Secretary of State, John Kerry, which seeks to achieve consensus on core issues.
They include the borders between Israel and a future Palestinian state; the status of Jerusalem; Israel's insistence that it be recognised as a Jewish state; the Palestinians' demand that their refugees be allowed to return to their former homes in what is now Israel; and security arrangements in the West Bank, with Israel wanting a long-term presence in the Jordan Valley.
In an interview with Bloomberg published on Sunday, Mr Obama said he would warn Mr Netanyahu that the "window is closing" for a peace deal.
"When I have a conversation with Bibi [Mr Netanyahu], that's the essence of my conversation: If not now, when? And if not you, Mr Prime Minister, then who? How does this get resolved?" he said, paraphrasing the revered Jewish sage Rabbi Hillel.
If the peace talks failed and there was "continued aggressive settlement construction" in the occupied West Bank, Mr Obama warned, Washington would have limited ability to protect Israel from "international fallout", an apparent reference to the Palestinians' threat to pursue Israel at the International Criminal Court and a boycott campaign.
Mr Obama said Palestinian Authority President Mahmoud Abbas, who will visit the White House on 17 March, was "sincere about his willingness to recognise Israel and its right to exist, to recognise Israel's legitimate security needs, to shun violence, to resolve these issues in a diplomatic fashion that meets the concerns of the people of Israel".
"I think this is a rare quality not just within the Palestinian territories, but in the Middle East generally. For us not to seize that opportunity would be a mistake."
When asked about Mr Obama's comments upon his arrival in Washington on Sunday evening, Mr Netanyahu told Israel's Channel 2 TV: "I won't give in to pressure."
"It has to be a good deal. I will stand up firmly for the vital interests of the state," he added.
Israel's Strategic Affairs Minister Yuval Steinitz meanwhile told Israel's Army Radio: "Netanyahu will, I think, give a clear answer: 'We are ready for peace. We want to advance a diplomatic accord. But we, rightly, worry about and fear for our national security.'"
Israeli officials also blamed the lack of progress on Mr Abbas's refusal to agree to recognise Israel as a Jewish state. The Palestinians have recognised the state of Israel, but say recognising its Jewish character would have implications for Palestinian refugees and Israeli-Arabs.