Israelis shoot dead 'mentally ill' woman near Gaza barrier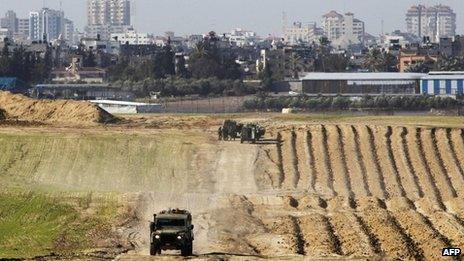 The Israeli military have shot dead a Palestinian woman who locals say was mentally ill, near the Gaza-Israel security barrier.
The area near the border is declared a no-go zone by Israel.
The incident happened near the southern city of Khan Younis, late on Friday.
Israel says it maintains the buffer zone to prevent attacks by militants. There have been numerous shootings of Palestinians who breach the area in spite of warnings.
The Israeli military said the woman was part of a group that ignored orders to leave the area, at which point they fired at the legs of the group, hitting one.
Gaza authorities and the woman's neighbours said Amna Qdaih suffered from mental illness and they did not know why she was near the fence.
Ms Qdaih's body was found and transferred to a hospital early on Saturday. Local authorities claimed she was hit by several bullets.
On Friday the Israeli military said one of its aircraft had struck a site in Gaza used to launch rockets into Israel. No casualties were reported.