Baghdad bombings leave dozens dead and more injured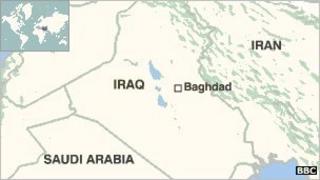 At least 30 people have been killed in bombings around the Iraqi capital, Baghdad, according to officials.
Twenty-five people were killed in one blast at a second-hand motorbike market in the eastern Sadr City district, they said.
The bomb, which also injured at least 45, appears to have been placed in a motorbike at the market.
Also in Sadr City, officials said five were killed and 14 injured when a bomb attached to a minibus exploded,
The same officials - a police officer and two medical workers, speaking anonymously - also said four had died and a further 11 were injured when a bomb exploded on a minibus in the northern Shaab neighbourhood.
No group immediately claimed responsibility for the attacks, but Sunni insurgents frequently use car bombs and suicide attacks in their bid to undermine Iraq's Shia-led government.
Such bombings have increased along with Sunni anger over perceived mistreatment by the government.
Sadr City is a predominantly Shia Muslim district.
Outside of the capital, a roadside bomb exploded near a Sahwa anti-al-Qaeda militia patrol in the Sharqat area of northern Iraq, killing two fighters and wounding four.
Last year, Iraq saw the highest death toll since 2007, according to the United Nations, which said violence killed 8,868 people.
Battles between the Iraqi military and pro-government Sunni tribal militias against a coalition of insurgents have been raging in Iraq's Anbar province since late December.
An al-Qaeda offshoot and other insurgent groups have taken control of the city of Fallujah and parts of the provincial capital, Ramadi, forcing thousands of residents to flee.