Syria al-Qaeda group gives rival jihadists ultimatum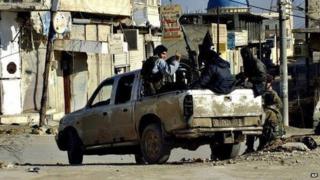 The leader of the al-Qaeda-affiliated rebel group in Syria has given rival jihadists an ultimatum to accept arbitration by clerics or be expelled.
Abu Mohammed al-Julani of the al-Nusra Front warned the Islamic State of Iraq in the Levant (Isis) that it would be driven from Syria and "even from Iraq" if it did not comply within five days.
The threat came after the killing of an al-Qaeda emissary, Abu Khaled al-Suri.
He had reportedly been sent to end the clashes between ISIS and other rebels.
More than 2,000 people are believed to have been killed since Western-backed and Islamist groups attacked ISIS strongholds in early January.
The group's predominantly foreign fighters have been condemned for attacking fellow rebels and abusing civilian supporters of the opposition.
'Takfir'
Abu Khaled al-Suri died along with several members of the hardline Islamist rebel group, Ahrar al-Sham, in a suicide attack on its headquarters in the northern city of Aleppo on Sunday.
There was no claim of responsibility, but the Islamic Front, an alliance to which Ahrar al-Sham belongs, said the "fingers of blame" pointed to Isis.
In an audio message produced by al-Nusra's media arm and posted on jihadist websites on Tuesday, Abu Mohammed al-Julani said Suri had been a "man who solved problems, not one to create conflicts" and that they had seen each other a few days before his death.
"We say to his killers: may your hands perish and your deed be damned. You, those who give you your orders, and those who write your fatwas are wretched, O deceived ones."
Without naming Isis, he denounced those attacking fellow rebels in Syria, using a derogatory term for President Bashar al-Assad's Alawite sect.
"Who is it that abandoned the fight against the Nusayris in order to fight those battling the Nusayris? Should you not be wondering about this?"
Julani said that while he did not deny that some rebel groups were guilty of "takfir" (unbelief), including the Free Syrian Army, many had been "ignorantly declared infidels" and their blood "deemed forfeit" by Isis.
He demanded that Isis halt all military operations against other rebels, allow a group of senior Islamic clerics to rule on allegations of takfir.
Reminding ISIS of its defeat to rebel forces in Deir al-Zour province and claiming that al-Nusra had yet to mobilise all its fighters, Julani said he expected a response within five days.
"If you refuse God's ruling, and do not cease afflicting the ummah (Muslim community), it will act against this aggressive, ignorant way of thinking and banish it - even from Iraq," he added.
Isis grew out of the former Islamic State of Iraq (Isi), a jihadist militant umbrella group that included al-Qaeda in Iraq. It is believed to have helped create the al-Nusra Front in mid-2011.
In April 2013, Isi leader Abu Bakr al-Baghdadi announced the merger of his group and al-Nusra - effectively a takeover - and the creation of the Islamic State in Iraq and the Levant (Isis).
But the move was rejected by Julani and Ayman al-Zawahiri, al-Qaeda's overall leader, who recognised al-Nusra as its sole Syrian offshoot.
Since then, ISIS and al-Nusra have operated as separate entities, with the latter focusing on toppling President Assad and maintaining better relations with other rebels. ISIS has seemed to be more concerned by territorial gains and implementing its extreme interpretation of Islamic law.