US presses Iraq on reports of Iran arms deal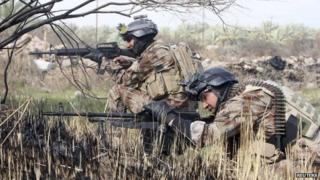 The US has said it is "seeking clarification" over a report that Iraq has signed a deal with Iran to buy arms in violation of a UN embargo.
State department spokeswoman Jen Psaki said that if the $195m (£117m) deal for weapons and ammunition was confirmed, it "would raise serious concerns".
The Reuters news agency said on Monday that it had seen contracts signed by the neighbouring states in November.
A spokesman for Iraq's prime minister neither confirmed nor denied the deal.
However, he said it would be understandable given Iraq's security troubles, which have seen al-Qaeda-aligned militants step up sectarian attacks and take control of parts of the cities of Ramadi and Falluja.
"We are launching a war against terrorism and we want to win this war. Nothing prevents us from buying arms and ammunition from any party and it's only ammunition helping us to fight terrorists," Ali Moussawi added.
Iran's ambassador in Baghdad, Hasan Danaifar, told the Mehr news agency on Tuesday that no arms deal had been signed.
'Direct violation'
Reuters reported that Iraq signed eight arms contracts with Iranian state-owned companies at the end of November, just weeks after Prime Minister Nouri Maliki travelled to Washington to ask President Barack Obama for more military aid to help combat al-Qaeda.
Six of the contracts were signed with Iran's state-owned Defence Industries Organisation (DIO), which agreed to supply light and medium weapons, mortar launchers, ammunition for tanks as well as artillery and mortars, according to Reuters.
The other two contracts were with the state-owned Iran Electronic Industries (IEI) for night-vision goggles, communications equipment and mortar-guiding devices, it added.
"If true, this would raise serious concerns," Ms Psaki told a news conference in Washington.
"We are seeking clarification on the matter from the government of Iraq and to ensure that Iraqi officials understand the limits that international law places on arms trade with Iran," she added.
Any transfer of arms from Iran to a third country would be in direct violation of UN Security Council resolution 1747, which seeks to constrain Iran's nuclear activities and missile programmes.
A US official said such a deal could complicate the ongoing talks with Iran about a comprehensive agreement on its nuclear programme. World powers suspect that Iran is seeking to develop nuclear weapons, but it insists its aims are peaceful.
Ms Psaki said the US had provided more than $15bn (£9bn) in military and security equipment, services and training.
It has recently shipped Hellfire missiles, hundreds of small arms and large quantities of small arms and tank ammunition. The Pentagon is also ready to sell more missiles and 24 Apache attack helicopters.
"We certainly view the government of Iraq as a partner in the fight against terrorism and we're committed to supporting them," Ms Psaki added.