Al-Qaeda: Younger men take up leadership roles - UN study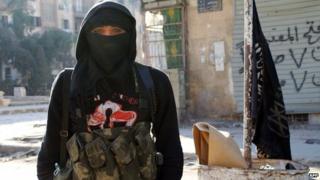 The leadership of some al-Qaeda affiliates is witnessing a generational shift from older men to men in their 30s and 40s, a UN report says.
The study also found some cells were now recruiting members as young as 12.
It warned of new international networks emerging from foreign militants in Syria meeting the local al-Qaeda-linked Nusra Front.
The report concluded that the global terror organisation remained "a threat" despite losing "its former strength".
"The ideas, inspiration and networks generated by al-Qaeda continue to reverberate," according to the report submitted to the Security Council by the UN's Analytical and Sanctions Monitoring Team.
'Different perspective'
The study on al-Qaeda trends observed a global generational change away from leaders in their late 40s to 70s in recent times.
"Mid-level commanders, in particular, are shaped by a different historical experience than their predecessors," it said.
The report added that "those gaining the most operational terrorist experience today are younger in age, primarily consisting of individuals in their teens through to early 30s".
"Younger commanders and fighters have a different perspective on international affairs, have the potential to generate propaganda that chimes with their generation more easily, and can also challenge their own leadership on tactics and targets," the UN experts found.
They noted that this was particularly evident in groups fighting in Somalia, Yemen, Nigeria, Mali, and Syria.
With regard to Syria, the experts warned claims that the al-Nusra Front had no interest in launching attacks outside the country could "not be taken for granted, as they are an al-Qaeda affiliate in a rapidly evolving conflict".
The panel of experts also said the group's Middle East affiliates had begun to ignore instructions by the nominal al-Qaeda leader, Ayman al-Zawahiri, who is currently at large.
Ayman Zawahiri was appointed head of the organisation in 2011 following the death of Osama bin Laden, but has become "relatively ineffective" since, the UN report said.
Further points highlighted in the report were:
Shifting locations: Affiliates find new spaces from which to operate when pushed back by government forces
Operational changes: Complex, simultaneous multi-strike attacks demonstrate that local branches are seeking to follow al-Qaeda core guidance for "spectacular" incidents
Potential return to Afghanistan: al-Qaeda is seeking to regroup and rebuild a presence in Afghanistan ahead of Nato's withdrawal of international troops at the end of 2014
Better weapons: Bombs are getting large and more innovative, with at least 90 countries suffering attacks
Counter-measures recommended by the UN experts to fight al-Qaeda include not paying ransoms.
The UN study said "hefty ransom payments" in recent years had made kidnapping a core tactic of the group.