Nine killed and soldiers seized in southern Yemen clash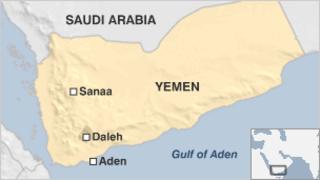 At least nine people, including five soldiers, have been killed in a gun battle in the southern Yemeni city of Daleh, officials say.
Another 14 soldiers were also seized in the incident, which defence officials said had occurred when "saboteurs" attacked a lorry carrying food.
There were conflicting reports about whether the four others who died were civilians or separatist militants.
Daleh is a stronghold of those demanding independence for the South.
South Yemen was a separate state until unification with the North in 1990, and the central government put down a separatist revolt four years later.
Ambush
A military official told the AFP news agency that the army convoy was ambushed near the office of the provincial government in Daleh.
The assailants fired anti-tank weapons and automatic rifles at the soldiers, he added, killing four soldiers and an officer.
Residents told the Reuters news agency that the other fatalities were civilians, including a child.
However, a separatist activist told AFP that three of his comrades were among the dead.
Daleh province has seen frequent clashes between gunmen and government forces since late December, when a shell hit a funeral attended by members of the separatist Hiraak al-Janoubi (Southern Movement), killing at least 19 people, including six children.
Last week, a committee led by President Abdrabbuh Mansour Hadi approved the transformation of Yemen into a federation of six regions - a move intended to soothe tensions in the South and end complaints against centralisation that has fed unrest there.
But separatist politicians, many of whom had called for a federation of only two regions, immediately rejected the move.