The Syrian child refugee whose photo hit a nerve online
By Simeon Paterson
BBC News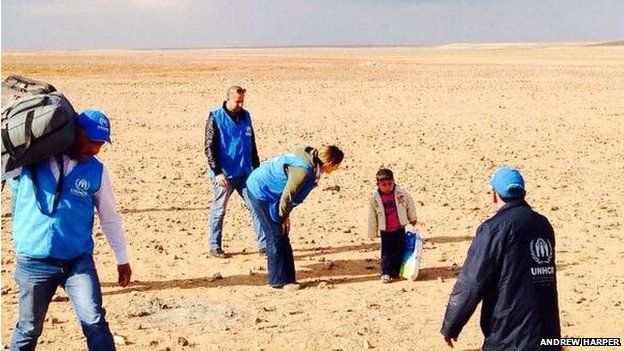 It is an everyday occurrence at border crossings out of Syria, but for four-year-old Marwan, it must have been terrifying.
After being temporarily separated from his family at the remote Hagallat crossing on Sunday, he was found by staff from the UN's refugee agency.
Andrew Harper, the head of the UN refugee agency UNHCR in Jordan, took the picture and posted it on Twitter, where it hit a nerve with many users.
It was widely reposted online.
But however heartbreaking the picture was, Mr Harper said, it was not unusual in the "chaos and confusion" of refugee border crossings.
Most refugee groups were headed by mothers bringing several children and all their possessions out of Syria, he said.
When the gates open, there is a crush as desperate refugees surge forward. Every day, children get lost.
With UNHCR staff searching for them when the surge abates, they typically do not spend too long on their own.
Mr Harper said Marwan was taken across and reunited with his mother about 10 minutes after this picture was taken.
On Tuesday, he posted another photo on Twitter that shows Marwan was at the back of a group of refugees when he was met by UNHCR staff.
"He is separated - he is not alone," Mr Harper added.
Crossing the border is a nervous time for the children and their families - one more trauma in the hellish journey from destroyed lives in Syria to an uncertain future as refugees in a foreign land.
Most of the refugees crossing at Hagallat - which lacks even a proper road - came from Homs and al-Quaryatayn, and it was likely Marwan was from there too, said Mr Harper.
He was just one of about 1,000 people who crossed into Jordan on that day alone.
There are now 600,000 Syrian refugees registered with the UNHCR in Jordan, part of an estimated 2.4 million across the region as a whole.
It is not clear what the future holds for young Marwan.
But with the mood of other refugee children one of relief once they cross the border, it is hoped that he, too, might look forward to a brighter future.
Malala Yousafzai, the teenager who survived a Taliban assassination attempt in Pakistan and has become a global campaigner for children's education, was also at the border on Sunday.
She witnessed emotional scenes at the border and, with her father, helped several refugees cross the no-man's land that separates the two nations.
The Malala Fund is teaming up with local Jordanian and Syrian organisations to help Syrian children get an education.