Bahraini activist Zainab al-Khawaja released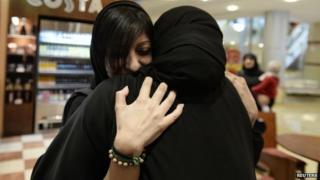 Bahraini pro-democracy activist Zainab al-Khawaja has been released from jail.
Ms Khawaja had spent nearly a year in prison after being convicted on several charges, including participation in an illegal gathering and insulting police.
"One year of prison is nothing," she told journalists on Sunday. "We have a cause... This will not stop us."
Ms Khawaja faces two further trials on charges that include damaging police property, defacing a picture of the king and insulting a police officer.
Concurrent sentences
The dual Bahraini and Danish national has been detained several times since pro-democracy protests erupted in the Gulf island nation three years ago.
Since February 2013, she has been serving concurrently several short prison sentences handed down by lower criminal courts that related to five separate cases.
She reportedly refused to appeal before higher courts because she believed that Bahrain's judiciary was controlled by the government. She also refused to pay bail.
On 27 January, Ms Khawaja was sentenced to a further four months' imprisonment on a charge of "destroying government property", according to Amnesty International.
She was accused of tearing pictures of King Hamad bin Isa Al Khalifa belonging to the interior ministry in May 2012.
Neither Ms Khawaja nor her lawyer was present at the trial. She was informed of the court session half an hour before it was due to take place and she told her lawyer shortly afterwards but he was unable to attend, activists said.
Her sister, Maryam, said she might be arrested at her next court hearing on Wednesday.
One of Zainab's two upcoming trials is for "insulting a police officer". Amnesty said she had verbally defended a fellow prisoner who was "insulted and humiliated" by a prison guard at the Isa Town detention centre, south of Manama, in June 2013.
After her release, she said international attention should focus on the 3,000 people she believed were being detained in Bahrain on politically-related charges.
Her father, Abdulhadi, is among eight activists and opposition figures sentenced to life in prison for allegedly plotting to overthrow the state.