Hezbollah leader Nasrallah vows to keep fighters in Syria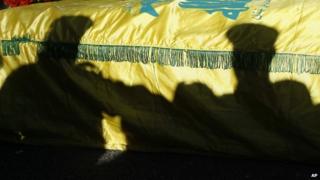 The leader of the Lebanese Shia militant Hezbollah movement, Hassan Nasrallah, says his members will continue to fight alongside government forces in Syria's civil war.
In a televised address on Sunday, he called on "political forces in the Arab world" to "stop the war on Syria".
He said if this happened, then "of course" his forces would also leave.
Hezbollah's presence on the ground has fuelled sectarian tensions back home, with violence spilling over the border.
Hezbollah forces have been fighting in support of President Bashar al-Assad in Syria, while Lebanese Sunni Muslims tend to back the Syrian opposition.
Dozens of people have been killed in a string of deadly suicide blasts in the Lebanese capital, Beirut, and the northern city of Tripoli in recent months, with both Sunni and Shia militants blamed for the attacks.
Parallels with Afghanistan
In his address, Sheikh Nasrallah pledged to fight alongside Syrian President Bashar al-Assad's troops until the takfiris, referring to extremist Sunni militants, were defeated.
"We will remain where we should be, our policy hasn't changed," he said, speaking at a ceremony to commemorate the death of three Hezbollah leaders.
Sheikh Nasrallah said the group's aim was to prevent radical Sunni militants linked to al-Qaeda from taking over, warning that Syria could turn into "Afghanistan after the Soviet exit".
"This is a danger that threatens all Lebanese...If they have the opportunity to control the border regions, their goal will be to transform Lebanon into a part of their Islamic state," he added.
He suggested the recent wave of deadly car bombings in Lebanon was part of the same battle.
"Yes, some martyrs will fall and some victims will be harmed economically and will be displaced and feel fearful and worried and insecure - this is part of the battle."
He also lambasted Saudi Arabia and other countries for supporting the opposition forces, accusing them of hypocrisy.
Hezbollah's involvement in Syria has bolstered President Al-Assad's forces, helping them to consolidate control over central areas around the capital of Damascus and on the Syrian-Lebanese border.
Hezbollah fighters have recently been engaged in the battle in Yabroud, the last rebel stronghold in the Qalamoun mountains between Syria and Lebanon.
The government's offensive to turf out opposition forces and cut off their supply routes started in November last year, but Yabroud only recently became the target of assault.
The army has already seized the towns of Qara, Deir Attiya and Nabak, to the north-east of Yabroud along the important motorway linking Damascus with the city of Homs.