Gunmen launch deadly attack on Yemeni prison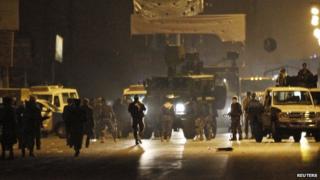 Gunmen have carried out a deadly attack on the main prison in the Yemeni capital, Sanaa.
Seven policemen and three militants were killed in the fighting, the state news agency reported. It said a number of inmates had managed to escape.
No group has said it carried out Thursday's attack, but Yemen is in the midst of an insurgency led by al-Qaeda-affiliated militants.
The Yemeni branch of al-Qaeda is one of the most active globally.
Witnesses reported loud explosions near the site of the prison, and the militants are believed to have used a car bomb during the attack.
The prison lies on the main road leading to the airport, which was closed as a result of the fighting.
Al-Qaeda in the Arabian Peninsula (AQAP) has taken advantage of the power vacuum left by the departure of former president Ali Abdullah Saleh in 2012.
In December, militants attacked the defence ministry in the capital, killing over 50 people and wounding over 160.
Abductions of foreign nationals have also been on the increase.
On Wednesday, a British national was abducted by an unknown group, the second kidnapping this month of a British expat.